Have you ever dreamed about visiting another planet? Well you can! And without leaving the planet Earth. There is another world hidden under the hundreds years old glacier in Iceland. The world of magical blue ice caves.
I've seen some pictures of the blue ice cave on internet just a few months ago. And honestly, my first thought was that they were taken on another planet or simply just photoshopped (aha, now I understand why my friends hardly believe that I didn't do any special postprocess with my pics). Just too surreal to be real. Too unreal to believe. Now you see! I had no other option than to go Iceland and visit blue ice caves on my own.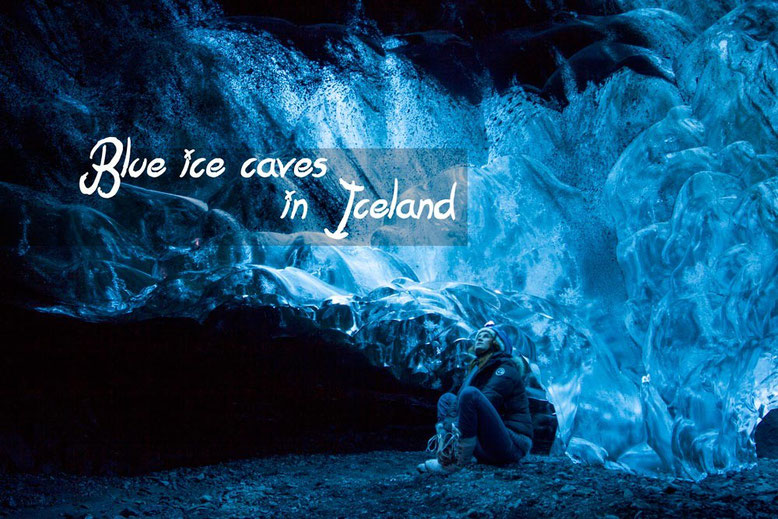 Why so blue? Why so mesmerizing?
OK, let's start with some awesome facts! The stunning blue color seen in this ice cave is the result of the ice containing almost no air bubbles, allowing it to absorb all the visible light except blue. I couldn't believe when the guide said there was eight meters of thick ice above me! The ice is roughly around 1200 years old. The blue ice however can be seen after a heavy rain in winter. And yes, the muddy color. That muddy color is caused by sediments in the melted water that streams through the cave. 
There are actually many ice caves around the world (Alaska, Russia, Switzerland, Austria, …), but those in Iceland are considered to be the most beautiful ones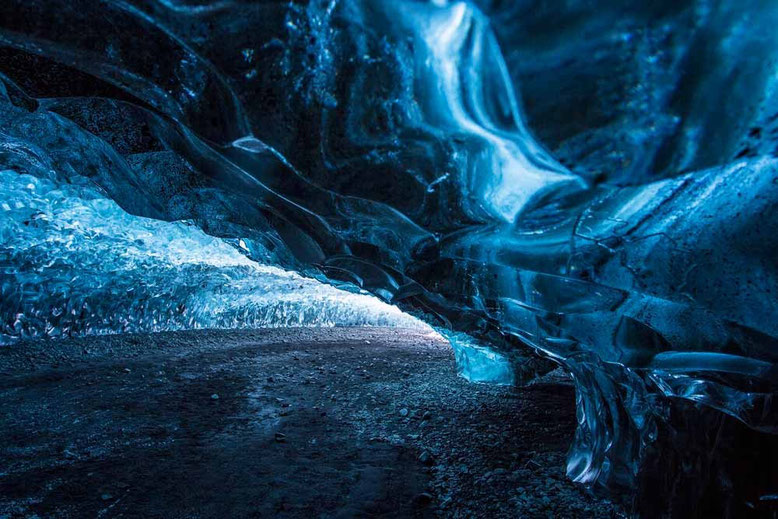 When to go?
All you have to do is to book your flight ticket to Iceland for between November and March. Ice caves in summer melt, tend to collapse and for that are highly dangerous. Even in winter they are not absolutely safe. That's why you should always go with a tour guide. I've been to that beautiful ice cave close to Jökulsárlón lagoon at the beginning of December 2014 and just 11 days before my visit, a big neighbouring ice cave collapsed. Fortunately there was nobody inside.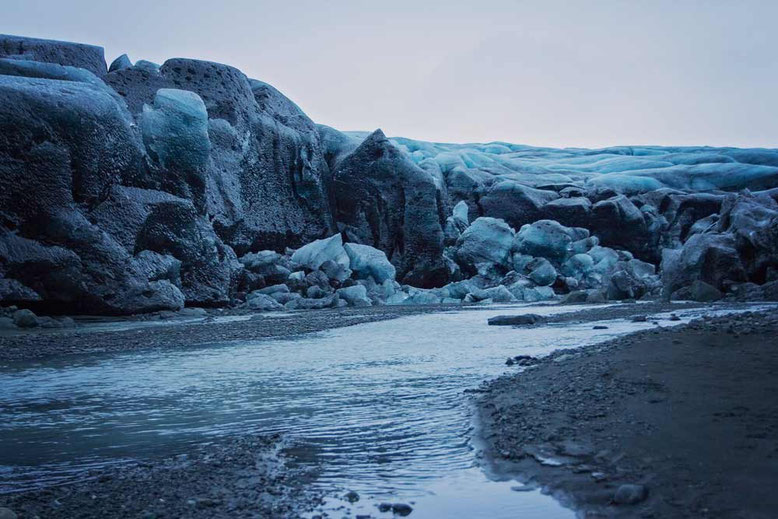 How to get there?
As I mentioned before it's really risky to enter the ice cave on your own without knowing the conditions. Also you'll hardly find it without the tour guide. The ice caves are really unstable and the one you can see on my pictures won't necessarily be there tomorrow. The tour guides usually know about a few of them and they are still in search for some new ones just in case the other ones will collapse.
You can choose from many tour operators running this trip (I will mention some of them at the end of this post). If you're a professional photographer, you can go for the photography tour which is more expensive, but the group is smaller and the trip is longer, so you have enough time to set your camera and tripod. I was on the low budget, so I went for a 'non-photographic' tour and indeed I had enough time to do my settings.
Get ready
Charge your camera and take the tripod if you have some. Don't forget warm waterproof clothes and good hiking shoes (some tour operators are renting them for about 1000 ISK / 8 USD).

The meeting point for most of the tours is usually close to Jökulsárlón lagoon - roughly five hours driving east from Reykjavík. Most of the tour operators do not provide transport to the meeting point and the public transport in winter is very limited, so I would recommend you to rent a car (it is cheaper in winter - from 40 USD/day). 
We had a group of ten and at the meeting point we all fit in to a huge 4WD Jeep. After 10 km of driving through really rough rocky roads towards the glacier we jumped out of the car, grabbed the helmets with headlamps and walked another few hundreds metres to the cave entrance.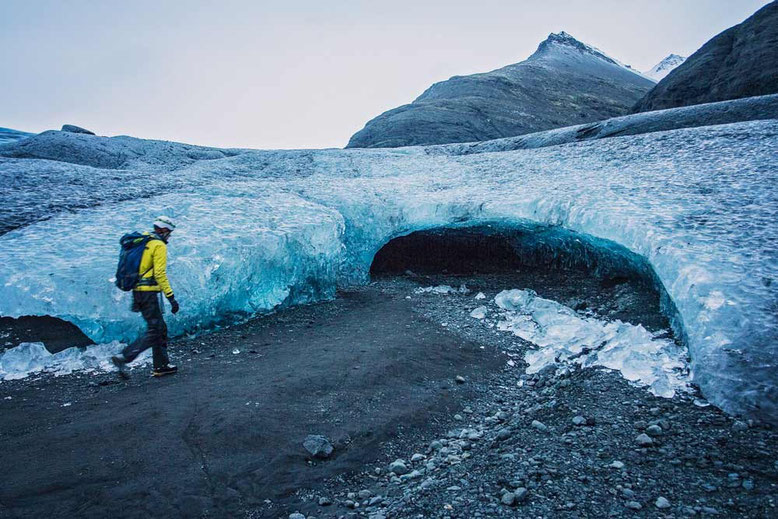 Our guide disappeared inside the glacier to check the conditions and appeared again after ten minutes. He explained to us the safety rules and let us enter the cave for around one hour.
Welcome to another planet...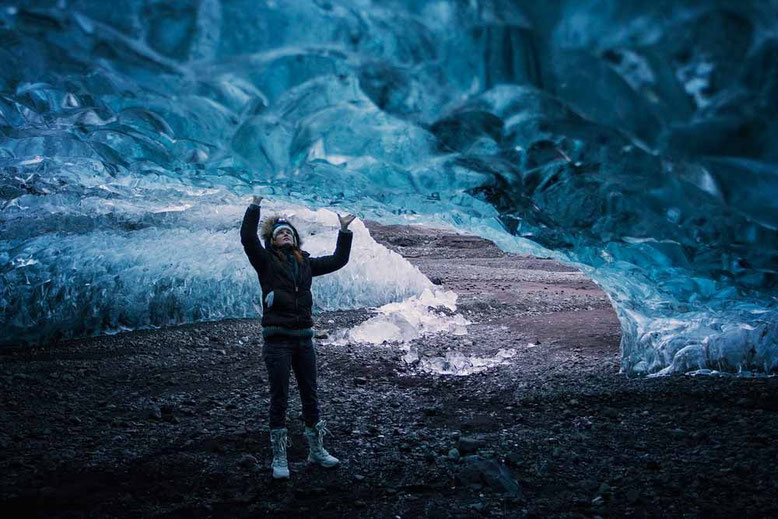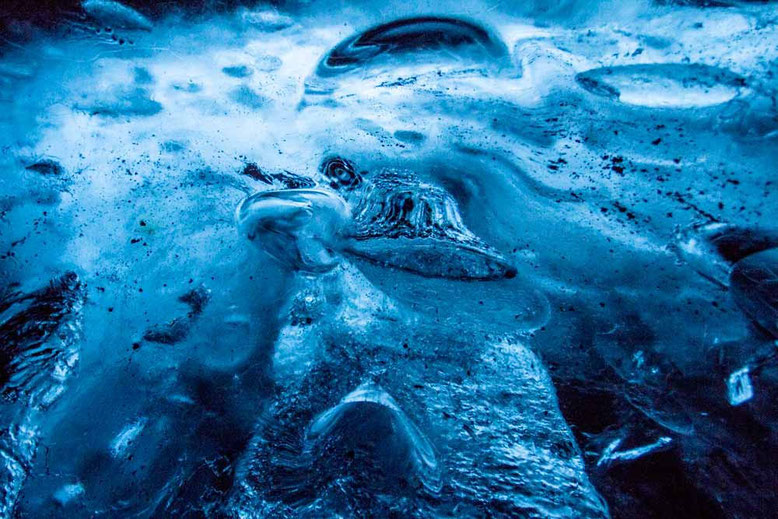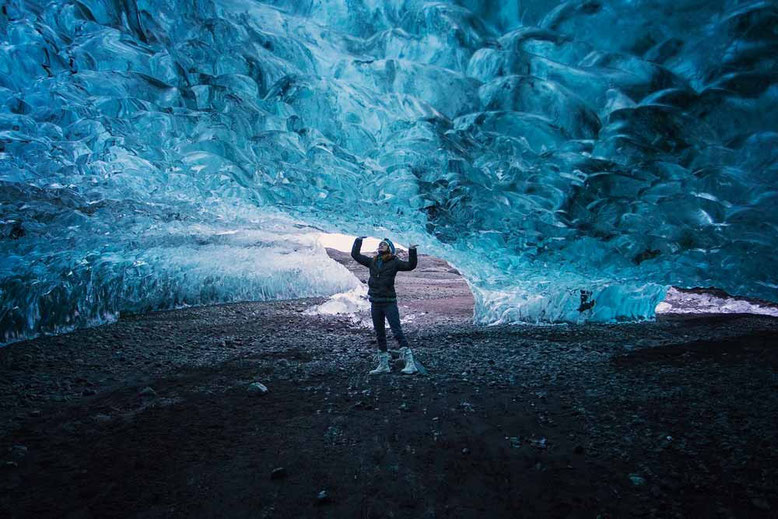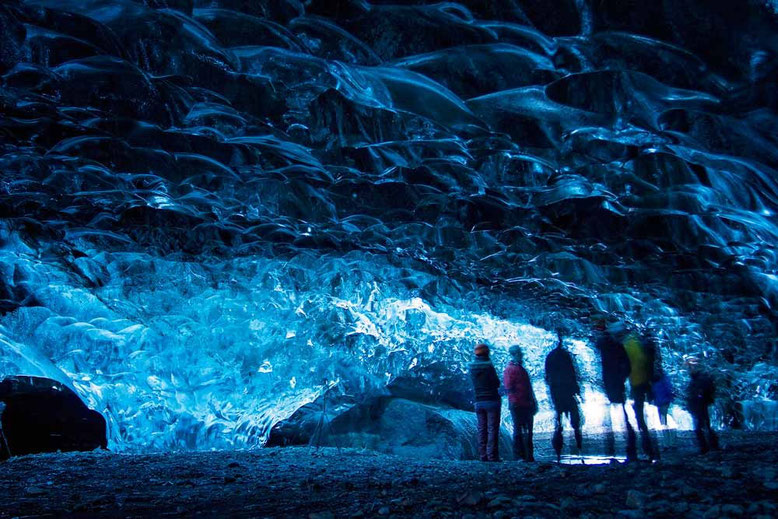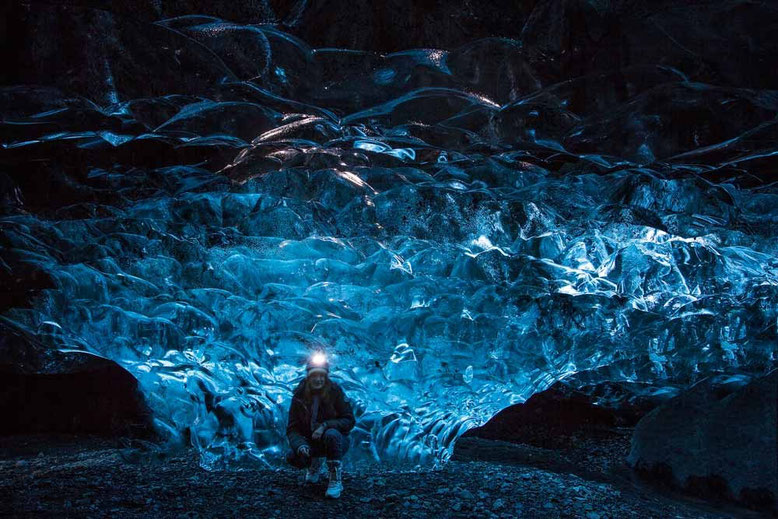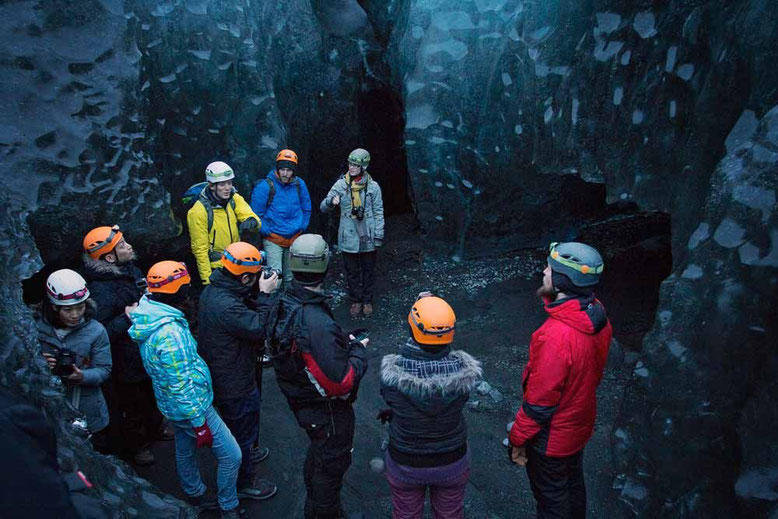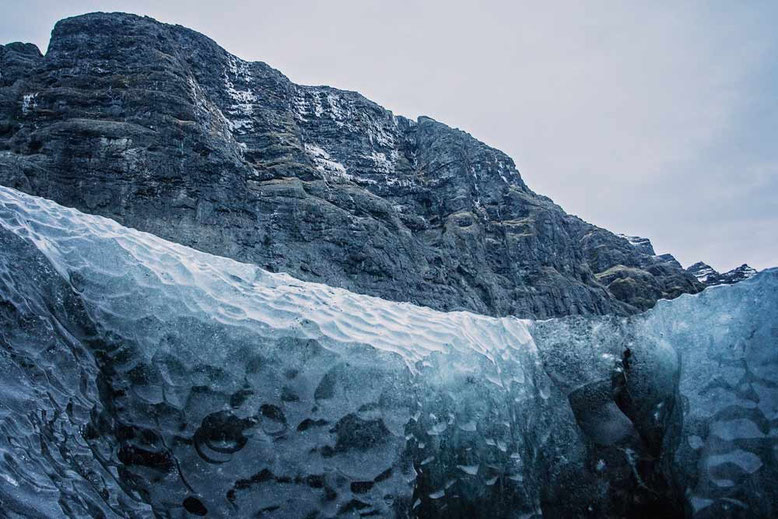 Tours to ice caves
Here I am listing some of tour operators running Ice Cave Tours (November - March). The price starts somewhere at 20 000 ISK (150 USD) and yes, it's kind of pricey, but you really can't miss this lifetime experience (and it's still cheaper than to go to Neptune...)! Be sure to book your tour in advance as it's the most demanded winter trip in Iceland. I would recommend you to do so at least one month ahead. I booked it 10 days before and there was just one date available, so I was forced to change my itinerary (but everything is for some reason, isn't it?)
Go NOW
Blue ice caves in Iceland is one of the most magical places I've ever visited.
If you'd also love to experience it, don't hesitate and travel to Iceland it as soon as possible. It's been said that in a few years there may be no more ice caves accesible for tourists due to melting.
Now, what are you waiting for?
Book your flight and go explore that fantasy realm you might know just from your dream!
Now, do you have any question or want to share your experience with me? I'll be happy for your comment or a message.
If you enjoyed this post, feel free to share.
Marti
---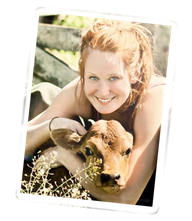 ABOUT THE AUTHOR
Martina is a photographer originally from Czech Republic. She quit her well-paid job in the film industry to travel the world and live the life. When she's not exploring deserted islands in South Pacific or diving with whale sharks in Philippines, she's prospecting for some gold in New Zealand. And... OK, that's completely weird to write about myself in third person, so Hello! I created this travel blog to inspire others to travel more, better and cheaper. I'll be happy if you follow me on my journey, so you can stalk me on my facebook page .
---
For many more travel tips, photos and stories from my journey, follow me by "liking" the FB page below!