Five years.
It's been incredible FIVE YEARS since I left my job in Czech Republic and took travelling quite seriously. I thought it would be a good time to take a look back at my travels and the things I've learned during exploring the world.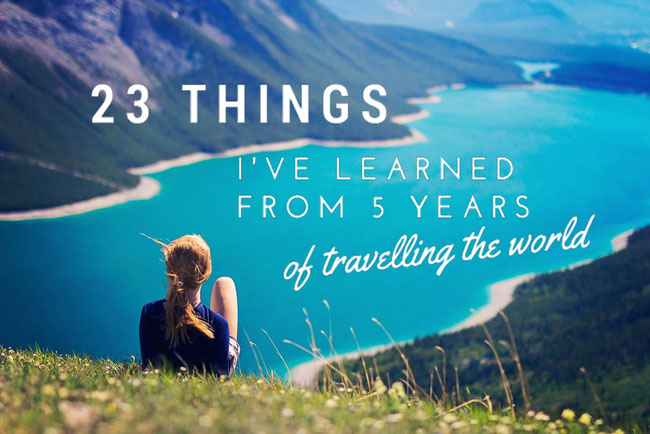 Although I am happy with my path and don't regret anything, I believe university and schools didn't teach me anything important. Seriously, I had gone through as many books, workshops and trainings as I could and thought I knew a lot, but I feel I learned so much more in last five years on the road.  
Before I will get to things I've learned while on the road... People keep asking me how I can afford a travel lifestyle for so long, or if I'm rich or if my parents and boyfriends paid for everything. I paid for the entire trip myself, starting with no money saved up (actually I was in debt). And trust me - my nomadic lifestyle is usually cheaper than when I used to live and work in Prague. 
You don't need to be rich to travel the world. To find out more about me and my story, please read About me. I usually fund my travels by taking any odd jobs as I go (I was a fruit picker, calf rearer, tourist guide, tractor driver, vineyard worker, actress, housekeeper, photographer, waitress, English teacher, etc.)
But let's go back to things that I have learned on my journey. Don't forget to sign up for my newsletter, so you won't miss my next article. I have so much to tell you yet.
---
01| You and your excuses are the only things holding you back
'You are living my dream!' 'I wish I could do what you are doing.'  - I can't tell you how often I hear this. 
Well guess what? YOU CAN!
If you want to travel but currently aren't, it's probably because you're hiding behind excuses. Time. Parents. School. Job. Money. Fear. They are all excuses, and YOU are the only thing truly holding yourself back.
I wasn't any different. But I went to chase my dreams although my parents wanted me to stay at home, I left a great well-paid job in film industry, because I didn't feel being myself. And I was in a big debt when started to travel. I wasn't scared, but I felt very insecure and vulnerable about what the hell I am doing.
Do you really want to study university or you just feel you should? Look around you and see how many successful people and freelancers didn't even finish highschool. 

Do you love your job so much, that you can't leave it?

Do you really care about your family or friends telling you how foolish you are to leave everything behind?

Are you going out every Friday and spend money only to get wasted, or buying a new iPhone, just because the old one is not so good as the new one. Buying a new handbag, because it does fit to your new dress and you only have 30 of them in your wardrobe?
Try to answer these questions and think about your goals and priorites.
You can live your dreams if you really want to. Don't be your own enemy. I know, first step is always the hardest, but the other ones are way more easier.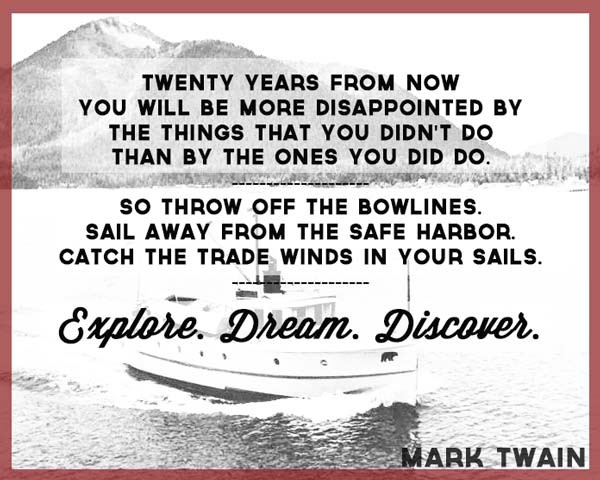 02| Long-term travel can be cheaper than living an 'ordinary' life 
People think I must be spending a fortune when I have been on the road almost non-stop for a couple of years.
But the truth is, that on my travels I spend even less money than if I work and live in Czech Republic. And it is considered to be one of the cheaper countries to live in.
When I travel around the world and live out of my backpack I try to live very frugally.
I don't buy new things, because I don't want to carry them (and mostly I don't need anything new, unless the old thing is broken).
When I am moving around I don't have to pay rent, phone bills, taxes, electricity, internet, gas or car insurance.
03| The more time you have the more money you can save
It's the key fact if you want to have the best and also cheapest travel experience. 
The most expensive part of my traveling is usually transportation - by plane, train, bus, boat. But for example in Laos I paid $4 for a night in the nice house by the Mekong River. So I ended up staying for two weeks, chilling in the hammock, reading lots of books and making friends amongst Lao people, who started taking me out for trips, fishing or just a casual dinner.
It is simple - the more time you have the more money you can save. Just take your time and try to be flexible with your dates and itinerary whenever possible.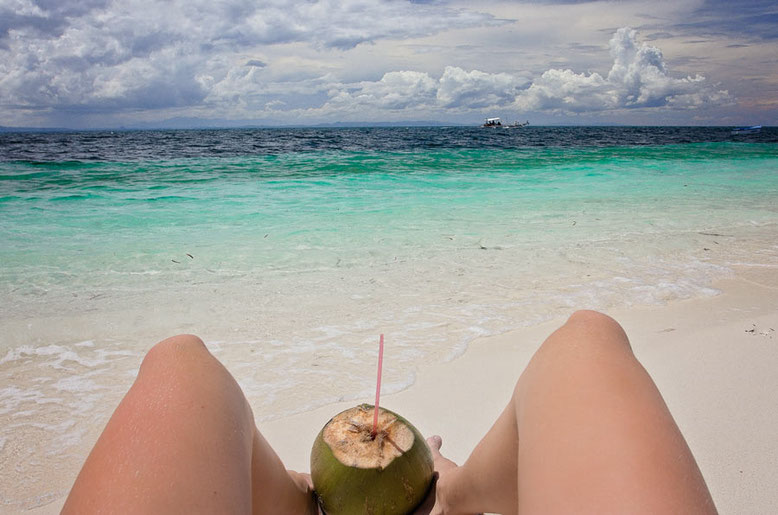 04| Spend money on a real good backpack
I mean it. If you are going for a big trip, your backpack will be basically your home - your everything. It can influent so much all your travels. It is important to invest into the real quality backpack.
Choose preferably the one with the front access as you might will be packing and unpacking quite often and front access will make all process faster and easier! I wander around the world my Osprey Ariel 65L and I couldn't be more happy!
05| Don't pack 'just in case' things
Most likely you won't ever need them. And every extra pound in your backpack counts. After five years of travelling, I can say I have never used that second pair of bikini just in case my another one would be washed out into the ocean. Most of the things you can buy on the road. Just in case.
06| Speaking even a tiny bit of the local language will open many doors
Before I enter a new country, I always try to learn at least basic phrases like hello, thank you, how are you, what's your name, etc.. Don't be afraid to talk, locals will respond with smile to any of your broken attempts at speaking their language. And many times it will open doors to their hearts and homes. Especially when you travel solo.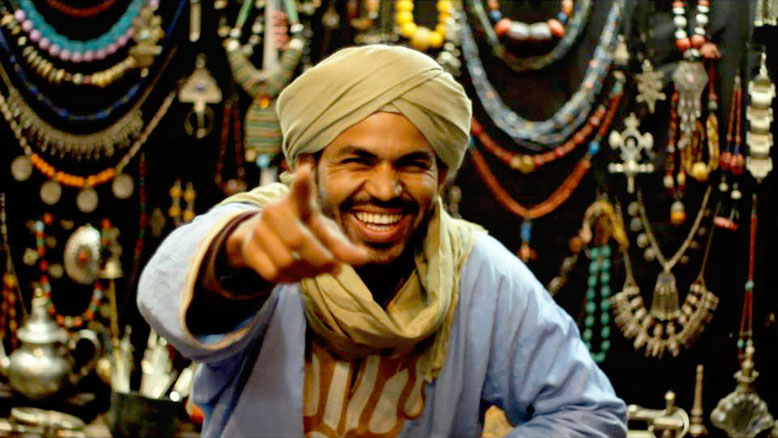 07| No matter what, there is ALWAYS a solution
You might be scared to travel and I fully understand that. Travelling on low budget can be full of challenges and also unpleasant situations. But you soon you will find out that no situation, nothing at all, is without a solution.
On my travels, I wouldn't have a place where to sleep sooo many times, I would be running out of money, feeling sick in the middle of the jungle, I would miss a boat or a plane, And look at me, I am still here, and I keep going. So heads up, stay calm and breath deeply. Solution is out there and you can do it! No matter what.
08| The world is not nearly as dangerous place as you might think
If you get your opinion of the world from the news and movies, you probably view it as a dangerous, scary place. The reality, of course, is way better. The scariest part of my travels is when I have to drive via highway to the Prague's airport. As long as you are smart enough and do a bit of research on where is better not to go in your next destination, you will be just fine. 
09| ... but do NOT trust monkeys... like... EVER!
They are so funny, I know. They are so cute, I know I know. You would love to take them home. All of them. Till they give you this face! They are sneaky thieves as well!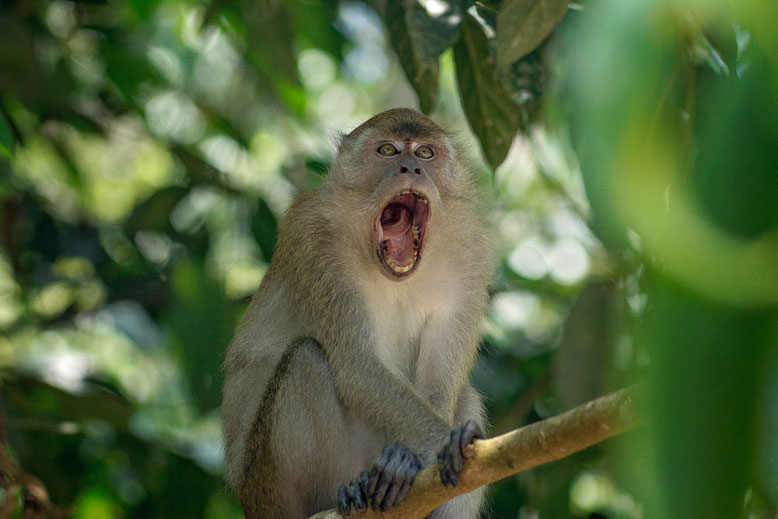 10| It IS worth it to buy yourself a Kindle
I have been hasitating for a few years before I finally bought this e-reader. Such a smart decision! Now I can't imagine to travel without my Kindle Paperwork. The battery lasts for weeks and it is incredibly light!
11| Not every day on the road is a good day
It's completely okay to have a bad day. We've all been there. Me too - and many many times. Behind all those great pictures from my travels there is plenty of moments where I felt sad, alone, insecure, heartbroken and just wanted to go home for my mum's hug. But heads up! Take a break, go for a beach walk, or just stay all day in your bed and watch movies. Next day will be brighter again :)
12| Don't be too cheap
Don't try to save every dime just because you want to travel longer. When I started to travel, I would think about every dollar spent. So even though I went to some amazing destination and had a chance to dive, hike, fly here and there, eat this and that, I was too afraid about my budget. I still regret many missed opportunities. But it has taught me to be more conciousness and while I am still trying to travel and live frugally, I don't mind anymore to spend a bit more money to have special memories.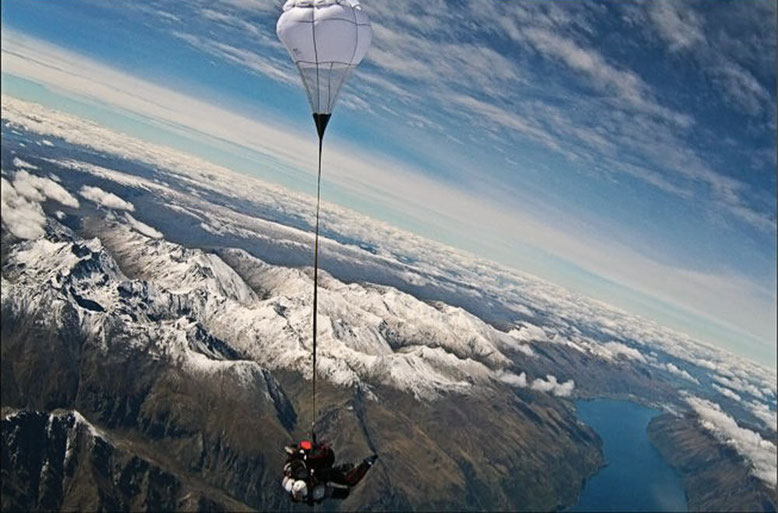 13| Sometimes just leave your camera at home
Believe me, I had to force myself so many times to forget my camera in my room. But it is really important to sometimes enjoy the world through your very own eyes.
14| I appreciated more my own country 
More I travel, more I see how special Czech Republic is and I always have those butterflies in my stomach when coming back home. 
It's tiny and picturesque and magical. You can almost imagine knights on their horses heading to castles hidden in the deep woods. From magical Prague to incredible sandstone formations of Bohemian Paradise, vineyards in Moravia or hundreds of castles sprinkled all around, this country in the heart of Europe has so much to offer. Not to mention well-known Czech beer!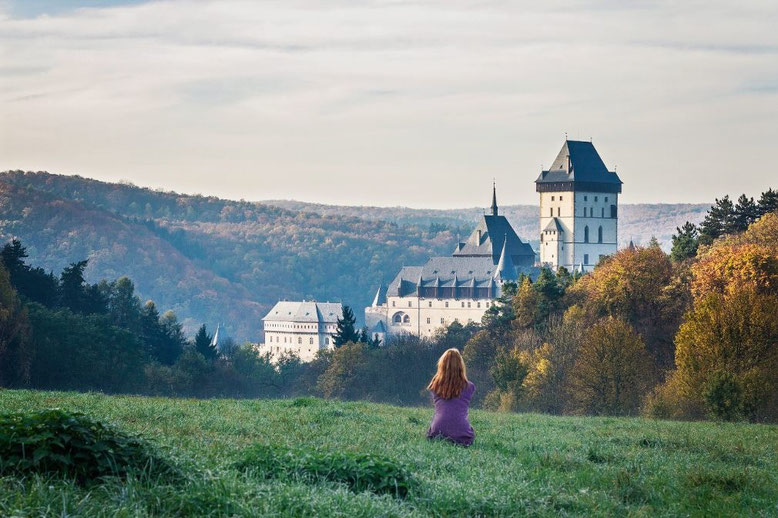 15| Plan smart, but don't stick to your plans
A decent planning can save you whole bunch of money and energy on the road. It is good to have some ideas where and when to go, it's good to research your options, so you can always choose and improvise along the way.
Sometimes you can turn up to a place and absolutely love it. So much that you want to stay longer. If you have already booked and paid for accommodation in another place then you don't have the flexibility to stay. Same as if you hate a place, you can find yourself stuck there because you've already paid in advance.
16| Early bird catches the worm
Noooo, I am not a morning person. But if I want to avoid crowds in popular tourist attractions like Angkor Wat, Borobudur or Moraine Lake, I will have to set up my alarm clock for an early hour. But later on I will never regret it. I can enjoy the solitude and also create some amazing photographs with a perfect morning light.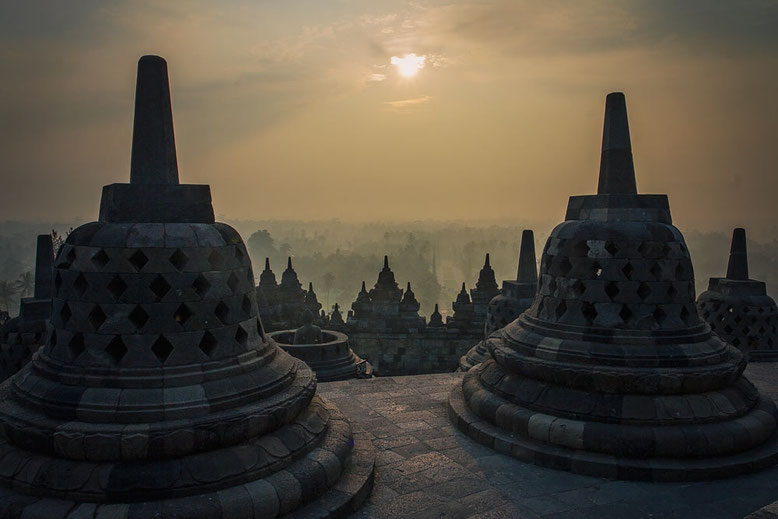 17| You will be surprised how modern can be developing world
After watching many documentaries, reading travel magazines and seeing photographs from different corners of the world, it was kind of a shock to wander through the awesome airport in Singapore with its butterfly gardens, shopping glass malls in Malaysia or Thailand, or to use wireless internet on almost all buses in the Philippines. 
The world is just changing very quickly and it's harder and harder to find unspoiled places. Therefore I urge you to travel NOW!
18| Don't you dare get hangry (hungry / angry)
Just because it could easily ruin your day and day of your travel buddy.
19| Lianas are fun!
... and one day I might will be as good as Tarzan.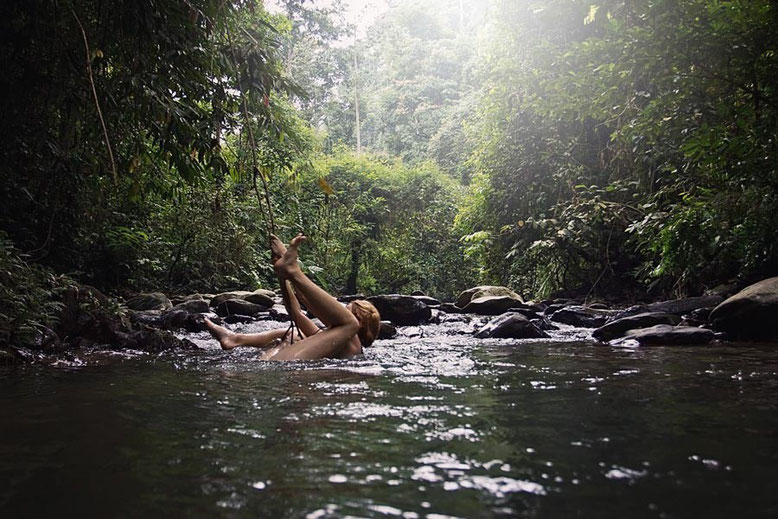 20| Hammock? Hammock!
When traveling, I make sure everything in my pack has multiple functions and my beautiful hammock has a variety of different uses on the road.
A travel hammock is just as good as carrying a tent, it is great for nap, chillin' with your friends, you can use is as a sunshade, or blanket, as a pillow in its travel pouch, or you can use it as a raingcoat.
When you are making your packing list for your next big trip, consider leaving some room in your backpack for a hammock. They are extremely durable, lightweight and compact making them excellent travel companions for your round the world journey or weekend backpack trip. 
21| What is important in my life
There is no secret, that travelling will open your eyes. It's hard to empathize with people complaining about train coming 10 minutes later, or getting a middle seat on a plane, when you meet people working hard making less than $3/day to support their families.
22| Who is important in my life
I have reevaluated some of my friendships. Choosing who I want in my life and who I don't. I won't have haters and complainers in my life anymore. I want to surround myself with the dreamers and the doers, with the beautiful open-minded souls. Then we can inspire and support each other and together chase our dreams.
23| LIVE THE LIFE YOU WANT TODAY!
It is time to make a change and start living. Not tomorrow, not some day. It is happening now, so please don't miss it!
How about you? What have you learned through your travels? 
Please share your thoughts with me in the comments below.
Enjoyed this article?
Feel free to share it with your friends and to read more about traveling sign up for my newsletter.
---

---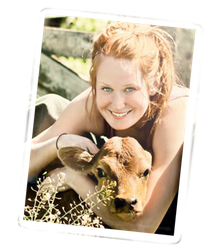 ABOUT THE AUTHOR:
Martina Gebarovska is a traveller and photographer originally from Czech Republic. In 2010 she quit her well-paid job in film industry to travel the world and live the life she has always dreamed about. She visited over 50 countries and when not exploring deserted islands in South Pacific or diving with whale sharks in Philippines, you might can find her prospecting for some gold in New Zealand, surfing waves in Morocco or reaching summits in the Canadian Rockies.  
---
Leave the comment: