Ever since I started to travel, which was back in 2010, I have learned many ways not only how to travel cheaper and save money, but also how to save my time and energy on the trips, how to feel safe when traveling solo and how to enjoy myself.
Most of these travel hacks and travel tips I have learned by my own mistakes. And many of those mistakes (frankly, I don't like to call them mistakes, but rather not so successful attempts) costed me lots of frustrations, sometimes tears or fears and often not a little money.
Now, my friends and fellow adventurers, let's learn from my mistakes and keep rolling!
And remember, with a bit of planning, staying flexible and positive, all your journeys will be way more enjoyable.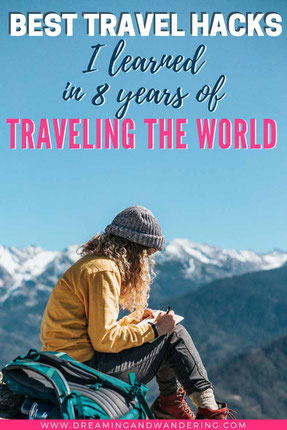 ---
Before the trip
Unless you're Christopher McCandless from Into the Wild, who just want to go with a flow and live from day to day, it's a wise thing to do a little research before jumping on the plane. It can save you lots of time, frustration and looooots of money.
A LITTLE BIT OF PLANNING WON'T HURT
I met people who travelled to Canada across the globe. In winter. They were surprised that they didn't see any of those blue lakes they knew from photos. Well, they are frozen most of the year, so when you go to Canada, you have to time your trip wisely. 
Let's say a campground in North America can cost you 45 dollars per night, but with a little research, you will know that if you drive a few extra miles, you will find a campground which is completely for free.
In 2010, on my first big trip ever through the western coast of US, we wanted to stay overnight in San Francisco. But due to some very famous event, all the budget places to stay were booked out. We were forced to pay much more money than we were willing to.
I am not trying to get you into some crazy overplanning. That's the last thing I would recommend to anyone. All I mean to say is, that with a little preparation, your trip can go in a smoother and more peaceful rhythm.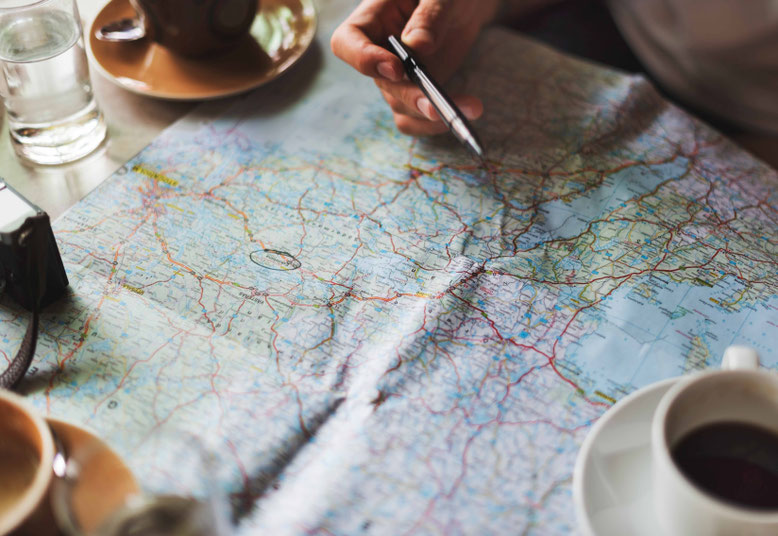 BOOKING HOTELS  - THE CHEAPEST IS NOT ALWAYS THE CHEAPEST
When I am booking places to stay, of course I always want the cheapest option possible. But there are other things to consider. For example, if I am staying in a bigger city, I rather pay a few bucks extra to be in the city centre or within a walking distance from the city centre.
Time, money and energy spent on public transport to get to the city centre from a random suburb, is not worth saving a couple of bucks.
Also, be honest to yourself. Do you rather spend time on your own when traveling? Then don't book to some vibrant hostel dormitory room with eight bunk beds. Look for some quieter hostel (not or hostels are party places) or pay a bit more for an option with a bit more privacy, such a guesthouse or rental home/room.
BOOKING FLIGHTS
For booking flights, I make sure I am searching via a private browser window. Booking sites and search engines often raise the price when they see you've been looking for the same thing before. That way they know that you're really interested in buy and will buy it anyways no matter if the price is little higher.
The best flight deals are usually to be found between 60 to 40 days prior to your departure.
GET TRAVEL INSURANCE
With my positive (some people used to call it naive, irresponsible or even careless) attitude, I never expect anything bad happen to me. Yet I never travel without proper travel insurance.
Maybe it's because my Dad is an insurance agent and I've heard many terrific stories of people traveling not insured.  
Or maybe it's just because I can't afford medical expenses in foreign countries. 
As someone once said - If you can't afford travel insurance, then you can't afford to travel.
Also your parents will feel much better knowing that you will be take care of if anything happens. If not for you, do that for your loved ones.
BUY THE RIGHT PLUG SOCKET
Research what plug socket you will need in the country/ies you are travelling to.
I always bring with me the universal one, which works anywhere in the world, so I don't have to worry if I have the correct one. Just plug it in!
DOWNLOAD OFFLINE MAPS
I don't have internet in my phone (oh, how much I love it!), so whenever I am planning to spend a few days in the city especially, I download sections from Google Maps, so I can use maps when I'm offline.
LET YOUR BANK KNOW WHERE YOU ARE HEADED
If you're traveling internationally, let your bank know about your plans. Call them and tell when and where you will be leaving.
By doing this you can easily avoid blocking your card (they can think your credit card was stolen and misused by someone else)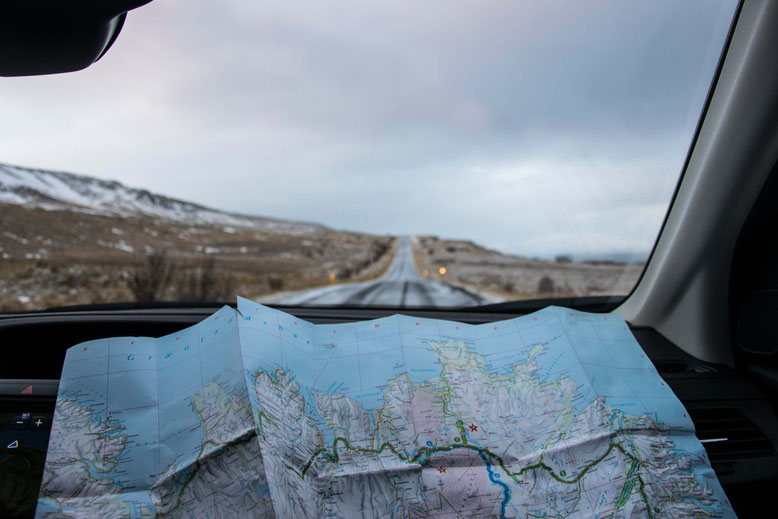 ---
Packing
DON'T PACK 'JUST IN CASE' THINGS
I know that well - what if I will loose this? what if this breaks? what if it rains or even snow in the middle of summer. I get it, been there, done that. We all want to feel secure when it comes to unexpected situations. But it's good to know, that less things you will bring, more you will enjoy your trip.
If you suddenly need something you didn't pack with you, then in most of the places in the world, you can buy what you're missing. So try to pack only things you know you will use. And a first aid kit atop of that. That's probably the only 'just in case' thing I can think of.
NEVER KEEP ALL YOUR MONEY/CARDS IN THE SAME PLACE
I have had never got stolen anything during more than eight years on the road, but I have almost always been prepared for such a situation.
I keep my money and credit cards on at least two places. For example one part is in my hand luggage and the rest is the backpack/suitcase.
NEVER KEEP ALL YOUR ID'S IN THE SAME PLACE
Same case like above. I created digital backups for all my documents - passport, ID, driving license, scuba diving license and saved them on Google Drive. That way I can access them from anywhere with a wifi connection.
KNOW HOW TO PACK RIGHT TO SAVE THE SPACE
There are lots of packing hacks and it's fun to watch how some people can get creative when it comes to packing.
Of all, here's what I do:
I use packing cubes and organizers - I have about eight packing cubes of different sizes and frankly I don't know what I would do without them
I roll my clothes. Rolling it will prevent creasing and take way less room than classical folding.
I place my rolled socks into the shoes to save even more space.
I always add a reusable garbage sack to fill with dirty clothes or to put my garbage to when camping.
All the heavy things go to the bottom or the back of my backpack. If you travel with a suit, then try to put most of the heaviest things to the bottom of the suit and to the side opposite from where is the suit' handle.
---
On the plane
DRINK ENOUGH WATER
Travelling by plane can be very dehydrating, which can also worsen your jet lag, so o make sure to drink enough water.
Bring your own reusable water bottle and when you make it through the airport security, fill it up. That way you will save money and have a fresh water to drink
PACK A SNACK
I love to make my own sandwich especially when I have long haul flights ahead. That way I can be relaxed knowing that I won't be starving. I get quite hungry all the time.
Also if you travel with low cost airlines and get hungry you have to pay lots of money for a snack or a meal.
ORDER A SPECIAL MEAL
If that's the option, order or preorder a special meal. You will be most likely served first.
On the way to China I had a chance to preorder a vegetarian Indian food at no additional cost. They brought special meals to four more people before they started to serve the regular meal. I didn't have to wait and could go sleep or read my book half an hour earlier than the rest of passengers.
WINDOW OR AISLE?
I never understood why anyone would voluntarily want an aisle seat, but two each their own :) (please please, do write me a comment down below if you are the aisle type, I would really love to know the reasons :) ).
I, personally, always go for a window seat, so I can rest my head on the wall next to me. I also don't get disturbed by beverage carts or other passengers walking in the aisle. The views are just a nice bonus.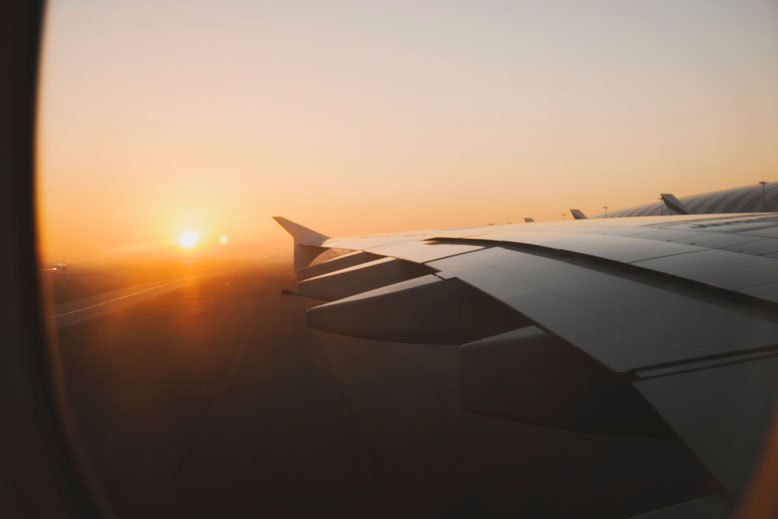 BRING ENOUGH CLOTHES
It can be hot or freezing on the plane. Or anything between.
I always travel with a bunch of spare clothes in my carry-on luggage and make sure I have at least three upper layers - top or T-shirt, long sleeve shirt and sweater (my friends often laugh at me and then I am the one borrowing them my scarf to wrap around their cold hips).
I wear high waist pants, jeans or leggings and would never step on the plane without a pair of socks and a scarf.
If you are still cold even after putting on all the clothes you've brought, you can ask the crew for a blanket. Mostly they have some extra ones.
SLEEP WITH A NECK PILLOW
I actually don't have one just because it's not the most universal thing to travel with. That's why I am using my inflatable camping pillow. I usually put down the foldable table on the seat in front of me, lay a pillow on top of it and sleep like a baby.
WEAR A NOISE CANCELLING HEADPHONES
Or earplugs. Unless your are one of those people who can sleep standing in the middle of the highway, it's something you will really appreciate.
SIT BY THE PLANE'S WINGS
Experienced pilots says that you should feel less turbulences by the wigs than in the back or front of the plane. So unless you enjoy turbulences…
BRING YOUR POWER PACK ON BOARD
Many planes already have USB and plug sockets. But many planes still don't. If you are a tech and barely put your phone down, be ready to charge your devices whenever needed. 
BEAT YOUR JET LAG
There are certain ways to make your jet lag more bearable or even prevent it.
It's good to try different things and see what's the best for your body. We all are different, so what works for me my not be working for you.
Stay hydrated

 and drink plenty of water
Try to 

avoid beverages full of sugars and also caffeine beverages

, like coffee, black and green tea. Also try to avoid drinking alcohol. They all can make your jet lag worse
Before and during the fly 

eat carb-rich food

 like oatmeal, whole grain bread or spaghetti. It's proven that it can minimize or even prevent you from having a jet lag

Wear eye mask

 (or a scarf) - light affects your circadian rhythm, so blocking it will help you to fight the jet lag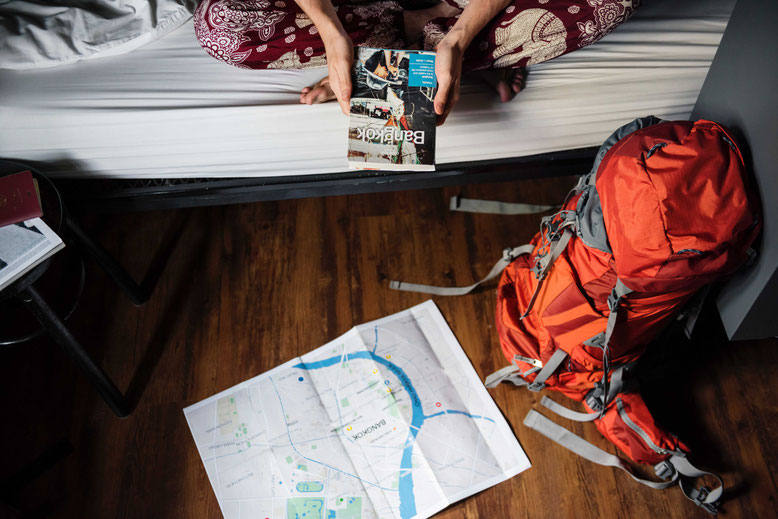 ---
On the trip
LOOK FOR FREE TOURS AND MUSEUM DAYS
In many cities around the world you can go on free city tours. After the tour you can tip your guide whatever you think the tour was worth.
Also many museums have days where you can visit for free, so look these up and see if it fits your itinerary.
IF YOU WANT TO TRY SOMETHING REALLY SPECIAL AND UNIQUE
Visit priceless.com to avoid tourist crowds and book an amazing holiday experience.
PUT YOUR PHONE AWAY
I can't stress enough about this. I love how there are more and more coffees and restaurants without WIFI.
When our phones or cameras are constantly in our hands, we are often not as present as we think we are.
How about a little challenge?
Leave your phone and camera in your hotel room, grab a printed map and go to explore the city with your own senses. You might will feel nervous or even anxious first, but there's a big chance that soon you will forget you don't have your phone with you and adjust to it quickly.
---
After the trip
CHECK YOUR BANK ACCOUNT
This is one of the first things I do when I get back home. I log into my internet banking to check my statements. It's good if you report suspicious charges within 30 days.
It's a really important step thing to do when back from your travels, yet most of travellers forget or don't even know it's something they should think of.
BACK UP YOUR PHOTOS
After loosing lots of my photos from a trip two years ago, I always make sure I create a backup of all my photos from the trip. I try to do backups already while on the road, but sometimes it's simply not possible.
What are your favourite travel hacks?
---
Thanks to Mastercard for sponsoring this post.
---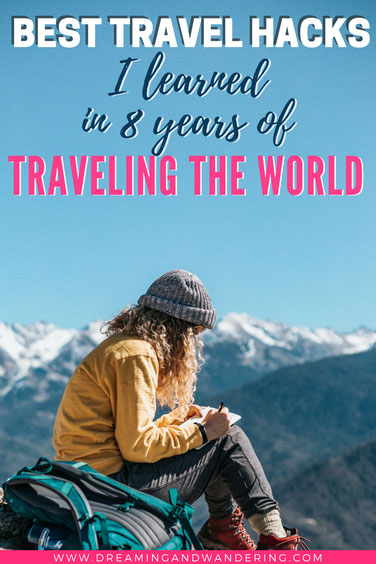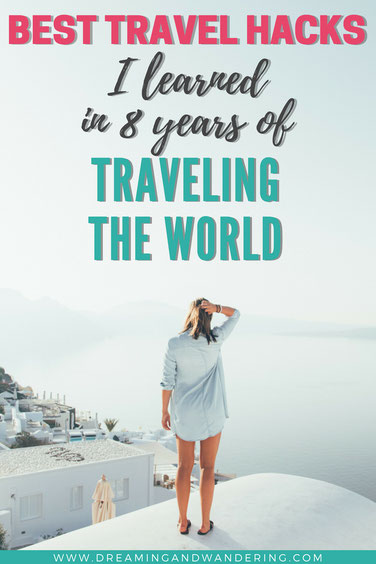 ---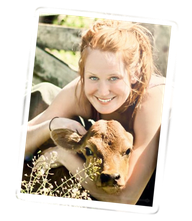 ABOUT THE AUTHOR
Martina is a professional photographer originally from Czech Republic. She quit her well-paid job in the film industry to travel the world and live the life. She visited 70+ countries and when she is not exploring deserted islands in South Pacific or diving with whale sharks in Philippines, she's searching for gold in New Zealand or trying to scramble the peaks in Canada.
---

Leave the comment: