Wondering how to plan your trip to the Canadian Rockies? 
Feeling a bit overwhelmed and don't know where to start?
Planning backpacking on low budget, camping, road tripping or are you looking for a bit more luxurious and comfortable way of travelling through these amazing mountains?
My fellow travellers, I hope this guide will help you plan the trip through the Canadian Rockies you have always dreamed about.
It's been more than two years since I moved to Canada and Oh Canada! If I would only know how beautiful you were! I would have probably moved into your mountains long time ago.
I was supposed to stay here for just one year thanks to my International Experience Canada visa (which - when approved - allows you to travel and work in Canada for one year or more - depends what's your country of origin). But here in the Canadian Rockies my love for the mountains was growing stronger and deeper and had I stayed longer. And till now I keep coming back to explore more of this incredible place.
Maybe, when you will see those incredible snow peaks, sapphire lakes, deep canyons and magical waterfalls everywhere around you, then maybe.... maybe you will fall in love with the Canadian Rockies as well...
Your complete guide to travelling in the Canadian Rockies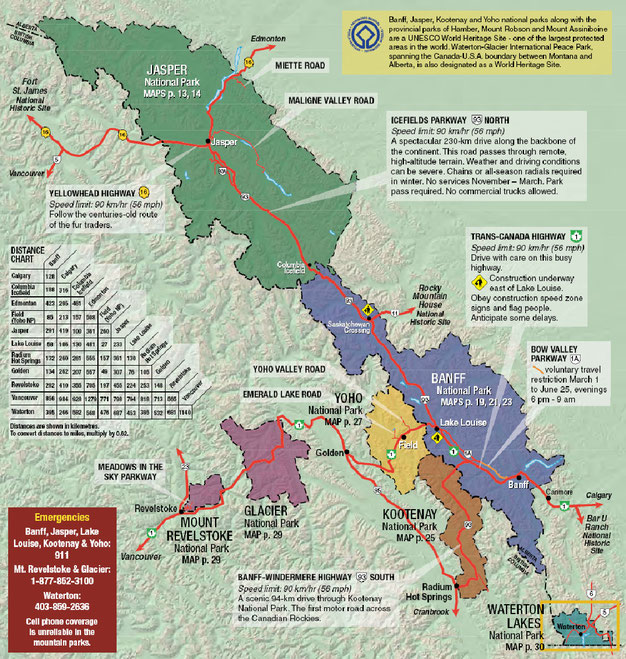 When is the best time to visit the Canadian Rockies?
If you coming to Canada mostly for exploring the scenery and for hiking the best time to visit is from mid June to mid September. That's correct, the hiking season in the Canadian Rockies is very very short. If you come sooner than in June, the most beautiful trails won't be still open, so it is definitely something you may consider when planning your trip and expecting on hiking and camping up there in the mountains.
Some places might be very crowded in summer season and if you plan to stay in hostels or hotels, lots of accommodation options can be easily booked out. Hence consider booking accommodation at least six months before your trip (maybe even one year to be sure).
My favourite time in the Canadian Rockies is during a shoulder season from mid September to mid October. The air can be already quite chilly and you can expect pretty intense snow falls. On the other hand, most of the trails are still open, crowds are smaller and golden larch trees are amazing addition to already breathtaking scenery.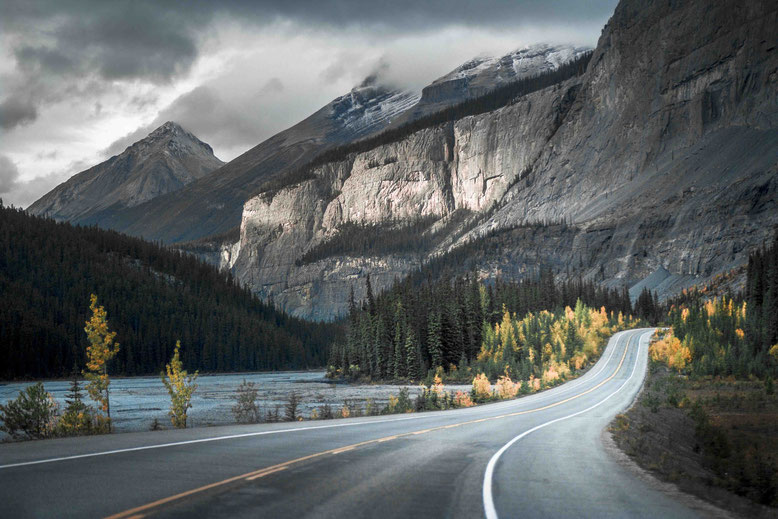 How long should I plan the trip for?
How long you plan for the trip is entirely up to you, and even though it depends on what you plan to do on your vacations I would recommend at least two weeks. This way you will have plenty of time to explore many beautiful places with no rush and soak it all in. If you are planning multi-day backpacking trips in the Rockies, in two weeks you will have time for those as well. 
Where should I start?
The best way to explore the Canadian Rockies will be to fly to Calgary. From there it's only a bit more than one hour driving to the mountains. Calgary is also a good place where you can rent a car or RV. Food is cheaper here than in the mountains as well so you can do big grocery shopping or buy some gas for cooking if you need to.
Another options can be flying to Edmonton, Kelowna or Vancouver. But hands down, Calgary is the best place where to start your trip from. 
How much should I budget?
Now, that's a hard one. It all depends whether you plan to hitchhike or rent a camper van, whether you gonna be camping or sleeping in five star hotels, dine out in restaurant or eat Chinese noodles every day. Myself I am low budget traveller and can live very frugally (with lots of noodles for dinner), I sleep in tent or in my car if I am not in the mountains.
Still I want you to have some idea about prices in Canada:
2 weeks car rental (Economy version, including car insurance) - 720 CAD
1 liter of gas - 1.28 CAD (just heads up, in generally cars in Canada are less economy than we are use to in Europe)
Public bus from Calgary to Banff - 18 CAD vs. Shuttle bus from Calgary airport to Banff - 65 CAD
1 night at campground - 15 - 38 CAD per site (depends on location and facilities available)
1 night at hostel in Banff (high season) - 55 CAD (craaazy right?)
1 night at 3* hotel in Banff - 200 CAD+ per room (2ppl)
for detailed restaurant, food and other prices in Canada check this handy website: Numbeo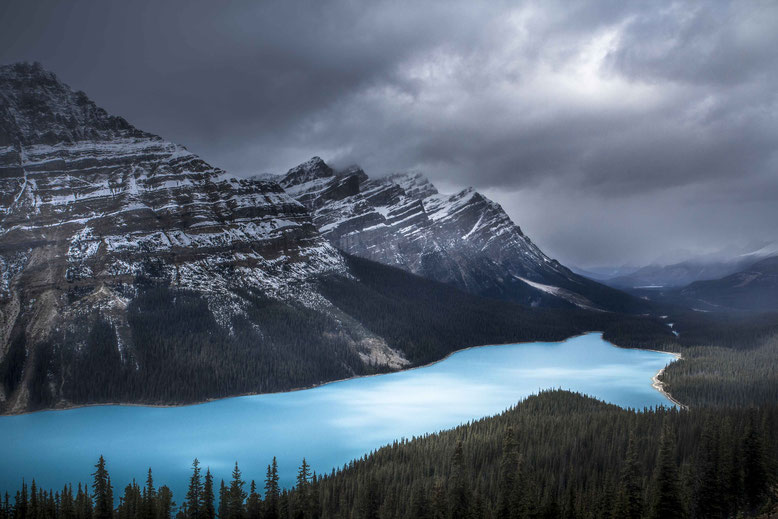 How to get around
I did travel in the Rockies by bus and train. Couple of times I also hitchhiked. But quite soon I figured out that it all this costs me so much energy and that I will rather pay money, buy a car and gain my freedom back. 
Travelling by public transport in the Canadian Rockies is not impossible, but keep in mind that is still very very limited. It is not very frequent, it will only get you to main spots and it will be way cheaper to pay gas in your gas then a bus ticket.
Hitchhiking is possible as well but if you plan to do lots of hiking, you should know that many trailheads start on gravel roads in the middle of nowhere with very low or zero traffic.
What are your options to travel around the Canadian Rockies?
BY CAR
If you really want enjoy your vacation, get your own vehicle. You have a few options how to do that:
Buy a car 

I bought a 7-seat car for only 500 CAD and converted it into a camper van with a bed and stocked with all the things I needed for living on the road.

This will work for you if if you planning to stay in Canada for at least a couple of months and you are time flexible. You can sell the car before you leave.

Obviously if you are coming to Canada just for a few weeks, you won't have any time to look for a car to buy, so you will still want to rent one.

If you buy one you will have to pay car insurance which is around 150 CAD per month
Where to search for used cars online:
Rent a car

Use a search engine to find the cheapest rentals - www.rentalcars.com
To secure yourself the lowest price, book the car a few months before your trip
Make sure you get the car insurance (it's usually not included in price you'll see first, you have to check the box when you're finishing your booking, or you can get it later in the car rental company)
Rent a campervan

It is a great solution if you want to sleep in the car (on the real bed), but you don't feel like driving big RV. Camper vans are provided with camping gear and kitchen utilities.
In Calgary and Vancouver you can rent beautifully painted Wicked Campers

 

Rent a motorhome

RV is a great compromise between backpacking and the comfort of living in hotels which are very expensive in the Rockies, especially during high season. Plus it will give you amazing freedom :)
RV rental including insurance starts somewhere around 1500 CAD per week.
Guys from Motorhome Republic guarantee you the lowest rental prices
BUS and/or TRAIN 
Unfortunately you won't really get far by public bus in the Canadian Rockies.
Greyhound bus will only get you from Banff to Lake Louise
Sundog Tours will provide connection between Calgary and Jasper
Brewster runs shuttle bus between Calgary airport and Canmore/Banff/Lake Louise and once a day also to Jasper. 
HITCHHIKE
I did hitchhike in the Canadian Rockies for a couple of times but frankly it's not the best way how to explore all that beauty in the mountains. As I mentioned before, many trailheads are off the main road and you will have troubles to get there.
If you need to get from A to B, let's say you hitchhike from Banff to Jasper, then yes, it is possible and depends on your skills and luck, you won't have to wait too long for a ride.
TAKE TOURS
If you can't rent a car for any reason and you don't want to hitchhike as well or use a public transport, you can have a base in Banff (either a hotel or a campground) and you can explore around by feet and also take take tours which are offered by many agents in town.
Discover Banff Tours offer many summer or winter trips, lake cruises, bear watching, rafting, horseback riding and more
Brewster offers trips to the Icefields Parkway, Jasper, boat cruise at Lake Minnewanka and many more.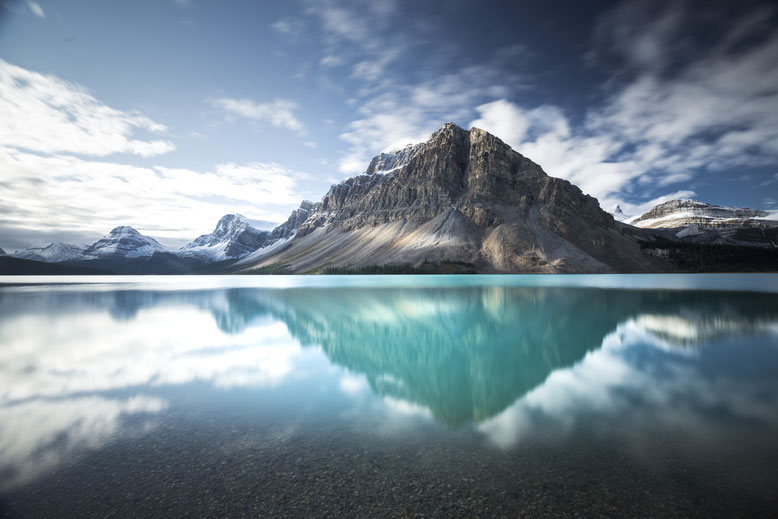 Where to stay
If you traveling on low budget: 
Your options will be quite limited because even one night in the dorm room can cost you 55 CAD or even more.
?? Couchsurfing / Airbnb ?? - you can give these options a go but from my own and my friends' experience it is not working very well in the Canadian Rockies. There are only small mountain towns and villages in the mountains, so you will find only handful of options for Couchsurfing (+ I never got any response to my requests) and Airbnb is quite expensive here.
Camping - it seems to be the only reasonable option for low budget travellers in the Rockies. It definitely helps if you are a bigger group or it's at least two of you (at the campground you pay for a site and it can hold up to six people)
If you don't care much about the budget: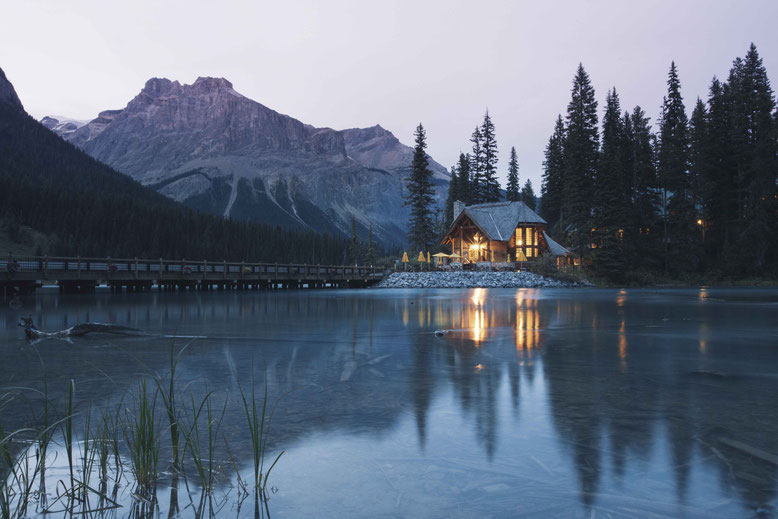 Camping in the Canadian Rockies
There are dozens of campgrounds around the Canadian Rockies and I below I will list links to all of the NP where you find all the information you need to plan your road trip.
Most of the campgrounds are available on first come, first serve basis, so try to arrive early, especially on weekends. Though reservations can be made for some of the most desired one (you'll see those in the list).
Prices for night vary from 15 to 38 CAD per night per site depends on the location and facilities of the campground (some are with electricity and hot showers, others hold only basic dry toilets).
One site can be share by up to 6 people and two cars.
At some camps if you pay extra 8.80 CAD you can use a fire pit (firewood included). Don't try to collect your own wood in the forest even with the best intension to clean if from fallen branches. It is not allowed and you can get a fine (I wish I would know that before :) )
Maps and lists of campgrounds in the Canadian Rockies: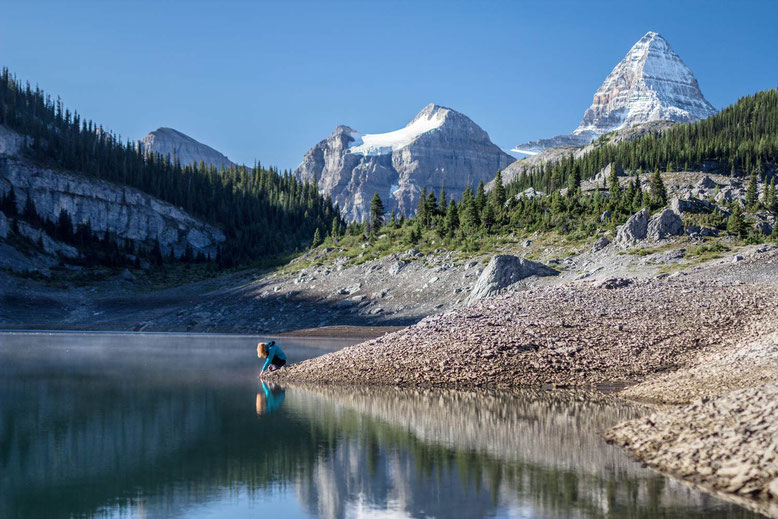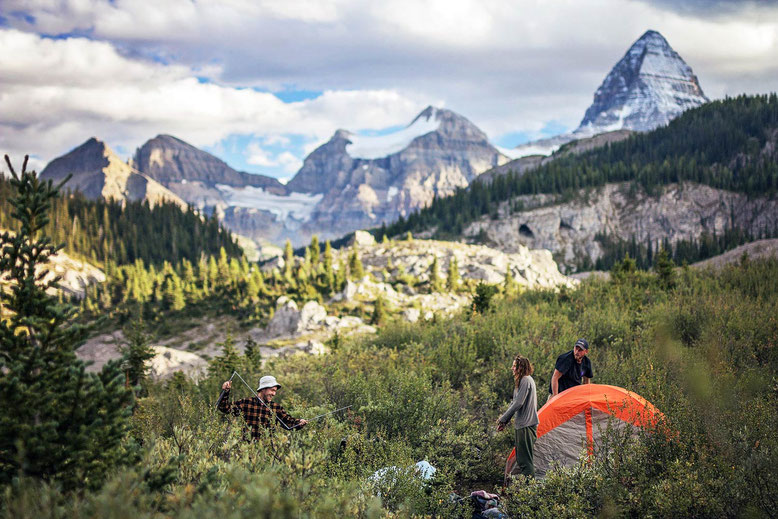 Discovery Pass
What is Discovery Pass?
Discovery Pass is an admission to national parks, historic sites and marine conservation areas.
Even with this admission you still need to pay regular camp fees. 
When will you need a park pass?
When you are entering any of the parks with the car (no matter if it's rented or your own) and when you're planning to do hiking along the way or just stopping at a view point or having a picnic 
When you plan to do camping or hiking (even without a vehicle)
When you drive the Icefields Parkway or Bow Valley Parkway (even without stopping)
Do I need to buy separate pass for each park?
Good news! You will be fine with just one pass for all the Rocky Mountain Parks (Banff, Yoho, Kootenay, Jasper, Waterton Lakes, Mount Revelstone, Glacier and Elk Island National Parks)
Coming to the Rockies in 2017? Lucky you! It's freeeee!
You can grab your Discovery Pass to all Canadian Parks right here 
(Canada celebrates country's 150th birthday).  
There is no rush with ordering is as passes will be available through all 2017.
You can order them either online (no matter where you live, they ship them worldwide) or you can pick one of those in person at the entrance of the park when you arrive. 
Coming to the Rockies after 2017?
The fees for the pass can be confusing, yet it is simple. You can purchase two kinds of passes:
Daily Pass

worth to buy if you staying/visiting parks for 6 days or less
valid till 4pm of the last day of validity (no matter what time did you purchased
pass fees:

Adult (17-64 yrs) - 9.80 CAD
Senior (>65 yrs) - 8.30 CAD
Youth (6-16 yrs) - 4.90 CAD
Family/Group (up to 7 people in one vehicle) - 19.60 CAD

Annual Pass

worth to buy if you staying/visiting parks for 7 days or more
valid for a full year till the end of the calendar month from the date purchased
pass fees:

Adult (17-64 yrs) - 67.70 CAD
Senior (>65 yrs) - 57.90 CAD
Youth (6-16 yrs) - 33.30 CAD
Family/Group (up to 7 people in one vehicle) - 136.40 CAD
If you want to know more information about park passes, you can check this website.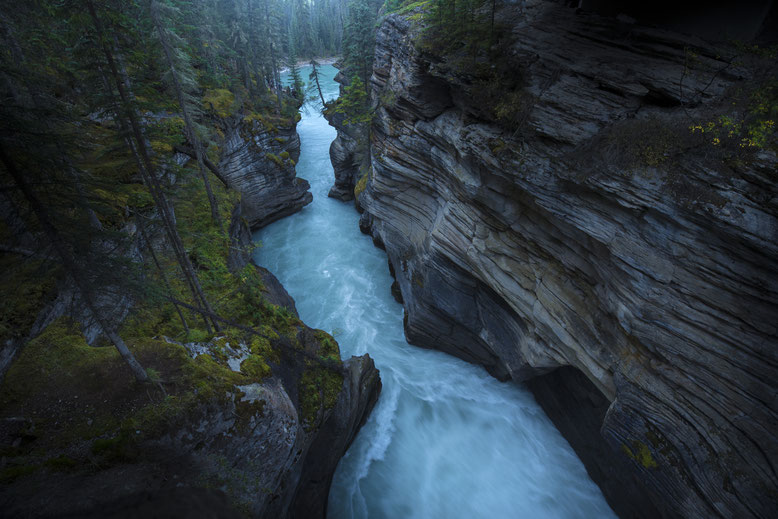 What to pack for your Canadian adventure
Don't let Canada fool you.
Summer can have many faces and you should be ready for any kind of weather.
My tips on what you should bring along - especially if you're planning backcountry adventures (+ links to some of my favourite gear):
Clothes

Long underwear - as the night can get really cold
Warm sweater
Raingear - rainproof jacket (or poncho) & pants
Hat and gloves - seriously, it can snow in mid August
Sturdy boots + second pair of shoes - sandals are great choice for crossing streams and camping

Sleeping gear
Other essentials

Bear spray - that's right, you are in a bear country and shouldn't underestimate it
Waterproof bag to store food at campgrounds
Rope (about 8 m) for hanging bag with food on trees
Water filter or purification tablets
Compass & Topographic map (sometimes I wished I haven't forgot these two)
Whistle
First Aid Kit
Knife
Extra matches and lighter
Toilet paper
Food for one extra day (when you like it somewhere too much and want to stay or if some unexpected situation occurs - flooded trail, injury, etc.)
Insect Repellent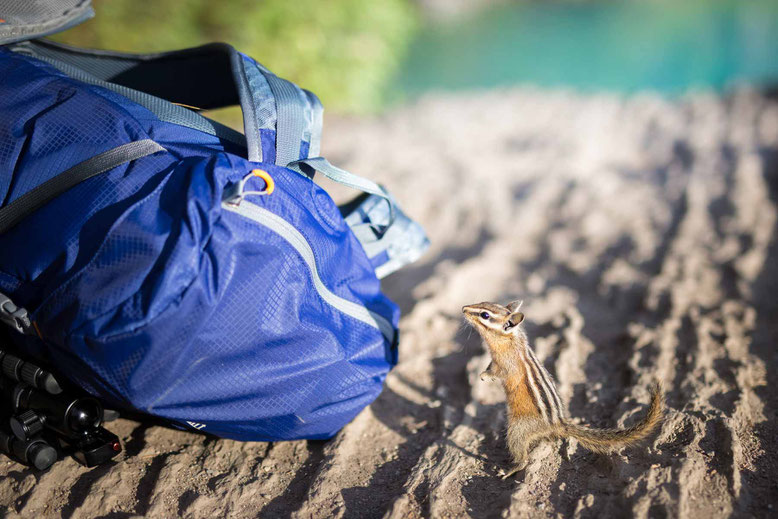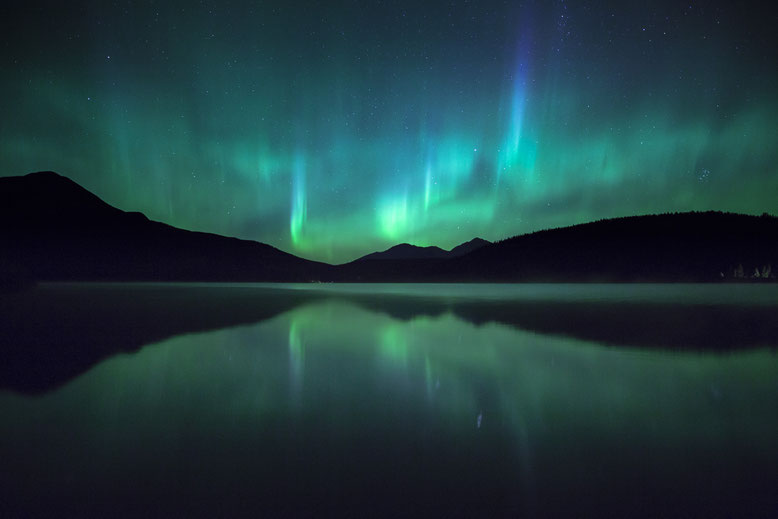 Beautiful places/trips in the Canadian Rockies
I always say that if I could live 500 years I still wouldn't be able to explore all that beauty in the Canadian Rockies. There are so many amazing places and there always surprises behind the next corner (sometimes even bear?).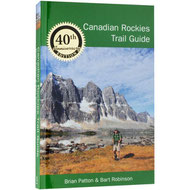 Here is the list of some of my favourite places but be sure there is much much more and you can always do your own research. Or you can buy Canadian Rockies Trail Guide because it's a real gem (I don't have a data plan in my phone so this book is my Google)
To find more informations about particular trails I simply use Google or two of my favourite websites TrailPeak and 10Hikes.
No hiking or easy-ish short hiking from parking lot required
Lake Minnewanka (you can take a cruise here)
Banff Upper Hot Springs (if you want to relax your muscles after hikes, adult admission fee 7.30 CAD)
Two Jack Lake
Johnston Canyon
Marble Canyon
Moraine Lake
Lake Louise
Emerald Lake + Natural Bridge
Takakkaw Falls
Bow Lake
Peyto Lake
Mistaya Canyon
Athabasca Canyon
Cavell Lake
Maligna Canyon
Maligne Lake (you can take a cruise boat to famous Spirit Island)
Pyramid Lake
Half day hikes / Day trips
Grassi Lakes (half day)
Ha Ling Peak (half day)
Chester Lake (half day)

Sulphur Mountain

 (half day) - stunning 360°views at Banff and mountains around, starts nearby Banff Upper Hot Springs and you can take a gondola ride to get to the top

Aylmer Lookout

 (day trip) - trail head at Lake Minnewanka

Johnston Canyon and Ink Pots

 (day trip)
Sunshine Meadows (half day/day trip) - beautiful alpine meadows, you can use a shuttle bus to ride up
Stanley Glacier (half day)

Floe Lake 

(day trip)
Rockbound Lake Trail (day trip)
Eiffel Lake (half day) - trail head at Moraine Lake

Plain of Six Glaciers

 (day trip) - trail head at Lake Louise
Cavell Meadows (half day)
Opal Hills (half day)
Sulphur Skyline (half day)
Multi-day trips
Berg Lake Trail - 22 km one way, this is so far my most favourite trail with stunning views at Mt. Robson, the highest peak of the Canadian Rockies) and fantastic glaciers
Mt. Assiniboine (from Sunshine Meadows) - 56 km, 3-5 days, not that tough hike and one of the most incredible sceneries I've ever seen
Floe Lake Trail - 55 km, 3-5 days, after first two days it gets easier. That Rockwall is worth of effort.
Lake O'Hara - can be a day trip as well, but recommended to stay at least one night. So many time it has been mentioned as one of the most beautiful places in the Canadian Rockies. You have to book a shuttle bus to get there and it is booked out really fast, so hurry up.
Skoki Loop - 34 km, 1-3 days
Tonquin Valley - 70 km, 2-7 days (I can totally spend here the whole weak to soak all that beauty in)
Skyline Trail - Jasper NP, 44 km , 2-3 days (but the someone's record is 6 hours, haha), be aware that snow here stays up till the en of July and is back at the end of September, hence you only have two month to hike this beautiful trail
Would you like to join me in September 2017 on my photography workshop in the Canadian Rockies?
For more informations click here.
Do you have any questions or recommendations on what to add to the article or beautiful places to see? I will be happy if you could share them with me, so I could add them into the article.
If you have any additional questions, please ask in the comments below so other people can read it too :)
Thank you for reading till the end and if you want to, please go ahead and follow me on facebook or instagram to explore the world with me.
Marti
**Disclosure: This article contains affiliate links, which means I receive a small commission if you make a booking using the link. It won't cost you a penny but it will help me to maintain this website and write more helpful articles in future.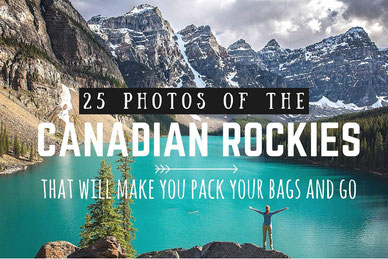 ---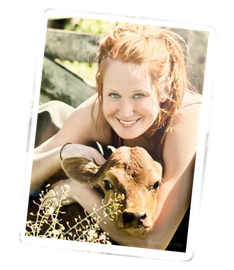 ABOUT THE AUTHOR
Oh hello! Welcome to my page where we all are allowed to Dream Big and we all are encouraged to Wander Far. My name is Marti and here you can read more about me. I am originally from Czech Republic and my story doesn't differ from many similar travellers - in 2011 I quit my well-paid job in film industry to travel the world which was always my dream. I visited 70+ countries and you can find me exploring deserted islands in South Pacific or diving with whale sharks in Philippines, prospecting for gold in New Zealand or building igloos above the Polar Circle. Let's join me on my journey around the globe!
---