Iceland's spring has so much charm, it's turning everyone's heads.
We know spring tells the birds to break the silence of winter with singing.
We know spring tells the flowers to open up and show the world their beauty.
We know spring calls to the sun to warm our bodies; to warm up our very souls.
We all have become quite fond of our homeland's spring;
But it's Iceland's spring you will fall in love with.
If you wonder what to expect from travelling in Iceland in spring, you are at the right place. This detailed guide will hopefully answer all your questions (and if not, feel free to ask me anything in the comments bellow).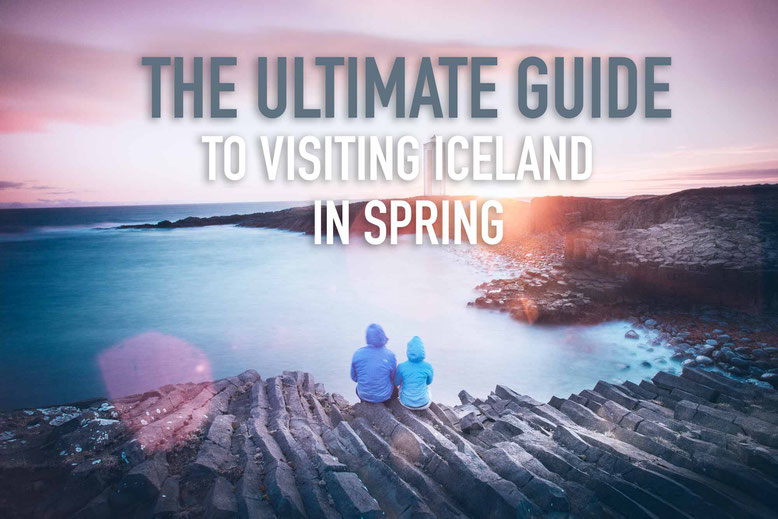 What kind of spring would you expect from a country that has the word ICE in it's name?
Many people hesitate to go to this island because they don't know what beauty awaits for them.
Even if you decide to go you may have no clue where to begin your exploration;
No clue what weather to expect when packing your clothes; No clue what activities there is while choosing your gear.
Well, my friends, have no fear, your ultimate guide on travelling to Iceland in spring is here. 
Despite the fact that spring sticks in Iceland just for a few weeks and arrives later than sooner, it is still magical. There's plenty of things to do and plenty of special things to see.
Iceland's spring is considered to be just April and May, but this guide will list the activities you can do from March till June.
Let's begin with the greatest reasons why spring in Iceland can be a wonderful choice:
You can still see the northern lights in spring
Till the mid of April you still have a chance to see northern lights in Iceland. After mid April there is already too much light in the night.
Also you'll be able to visit blue ice caves if you will arrive to Iceland before the end of March.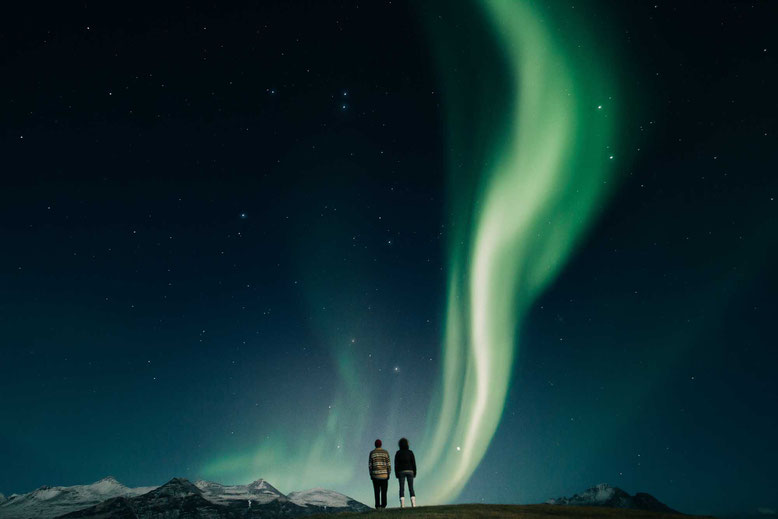 Lupin flowers fields forever
You might have seen Iceland's beautiful pictures of white churches settled in infinite fields of violet flowers before. These are called lupin flowers.
Lupin flowers got here from Alaska and spread like wildfire. If you come in spring and/or in summer, you will see that ethereal beauty they bring to an already stunning landscape.
Your best chance to see the lupin flowers in bloom is around June. But this all depends on weather. They can start in late May and bloom till early July.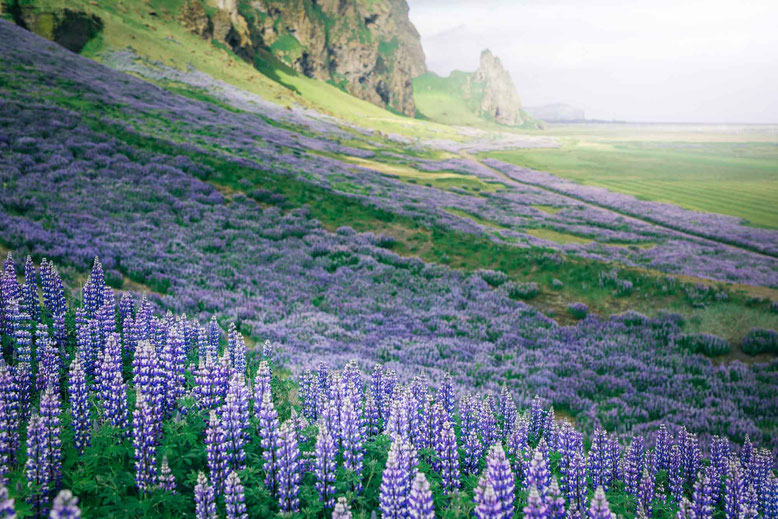 Puffin birds coming back to the coast
The main reason some people visit Iceland is to see these wonderful creatures called puffins.
The time when puffin birds are moving from the ocean to the land is approximately mid-April to mid-August.
If you've never seen these beauties you should look into it. It's fascinating to just sit nearby and observe their teeny tiny being. Some places you can get so close you feel like they are surrounding you.
Some of the best places to see puffins:
Westman Islands (Vestmannaeyjar) - In all of Iceland this is the place where you can spot puffins the earliest. Every year they typically arrive in the middle of April and stay more or less into early September. It's here that you will find about half the population of Iceland's puffin birds (around one million). Puffin birds here are both harvested and conserved. They stay more or less into early September.
Látrabjarg cliff in Westfjords - the puffins come mid May and leave by mid August
South Coast - there are some very popular puffin colonies in Dyrhólaey, Reynisfjall near Vík í Mýrdal. Both of these locations you can access very easily.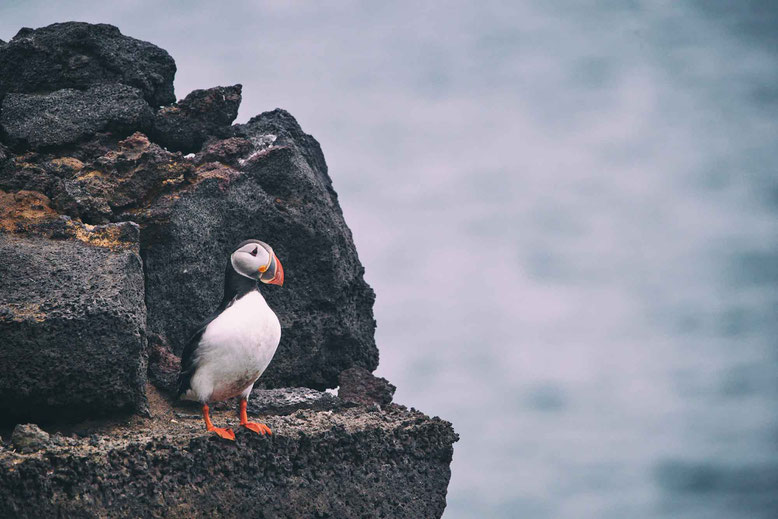 Powerful waterfalls
As days are getting longer and warmer, snow and ice is melting faster. This fresh new water feeds thousands of streams and rivers bringing them fully to life.
Waterfalls in spring can be peacefully wild.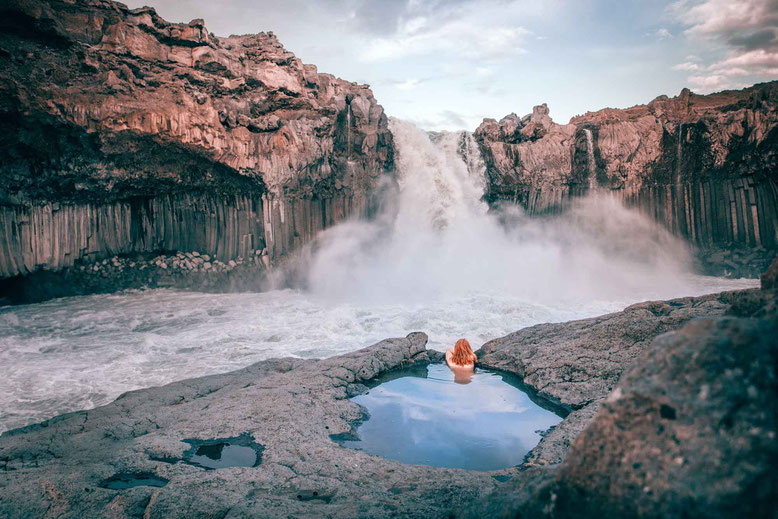 Lambs running around
In spring lambing season is on.
Starting in May you'll see small baby sheeps running everywhere! :) Sometimes they can be right in the middle of the road. Just try to keep an eye out for them while driving.
* If you desire to experience work at a sheep farm in Iceland I recommend you to look for a volunteering project via Workaway - check out my guide to your first Workaway experience, WWOOF or HelpX. Plenty of farms all around Iceland are looking for volunteers to help during their intense lambing season.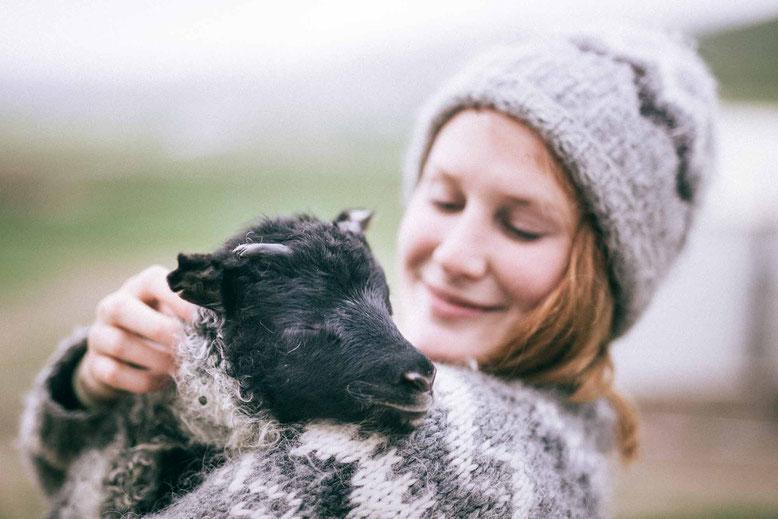 Less tourists
There's no secret that Iceland tourism is growing at tremendous rate.
Most locals seem to love the growth since it saved them from an economic slump. But when it comes to you, there probably isn't many years left before you can see the main attractions without large crowds.
Another reason to bump Iceland to the top of your travel list ASAP.
But still, if I compare spring months with summer, crowds are way smaller in spring.
There is a very real chance you may find you have the whole place to yourself, which is impossibility in summertime. Especially on very popular places such as The Golden Circle; And some famous stops along Ring Road like Skógafoss, Svartifoss or Jökulsárlón.
Believe me, you will appreciate being lost in the Icelandic magical landscape by yourself or with just a handful of fellow Iceland explorers.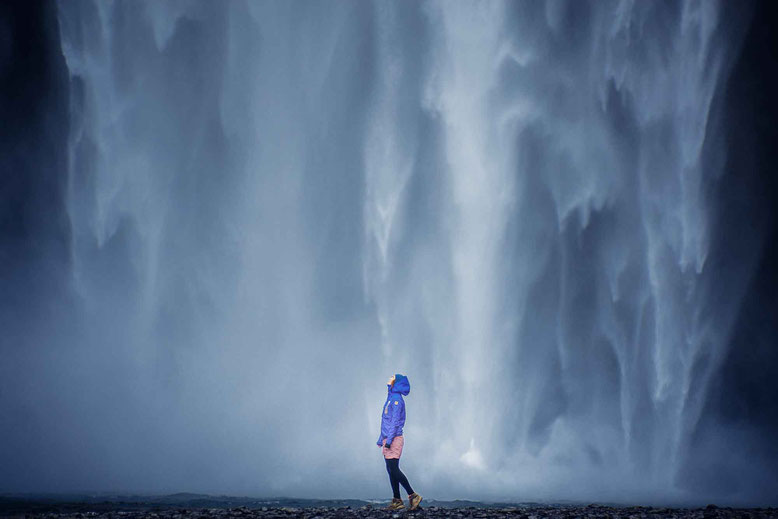 Perfect light for photography
Whether you're a professional photographer or an amateur, you'll love the light conditions in spring!
The sunrises and sunsets are incredibly long and you have plenty of time to set up your camera gear to catch that perfect shot. Be ready for real magic!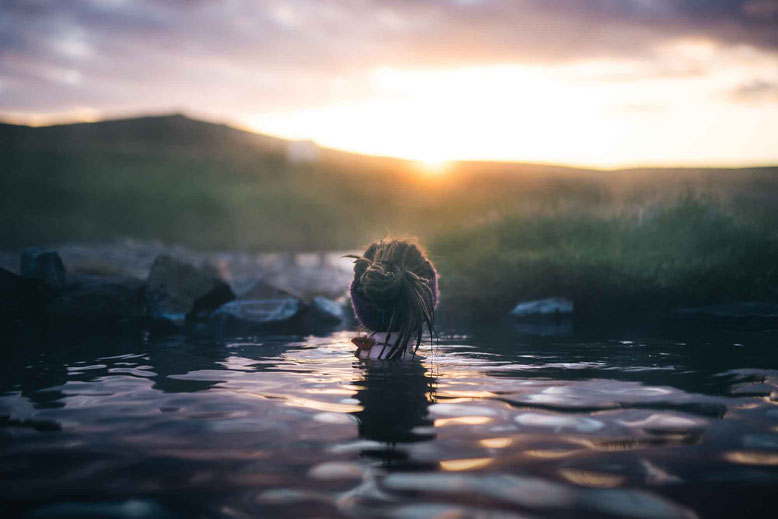 It's cheaper in spring than in summer
Spring is considered to be a low season in Iceland.
As I already wrote in my article winter in Iceland, prices during a low season can be up to 50% cheaper than the high season (Iceland's high season starts in June).
What is cheaper during spring you might ask?
Cheaper flight tickets 

Especially when you buy your ticket months in advance (I would suggest at least month and half).
Amongst the best choices to get to Iceland is Icelandair (fare includes one big luggage) or a low budget company WOW air (you have to pay extra for your luggage). 
Cheaper car rental 

Price difference when renting a car during low vs high season is HUGE! During summer the prices are practically doubled. The price of the very same car I rented on Rental Cars in May, was twice as much one month later in June! 
If you're on a tight budget you may save yourself a few dollars by renting a car from locals. You can give this a try at Carrenters.is. Although renting a car with a rental company will be way less hassle.
If you prefer to have a little bit of a luxury, but still want to save money and be flexible, you can rent an RV. I recommend to rent with Motorhome Republic. Not only do they guarantee the lowest price, but also are super helpful when helping you to choose the perfect motorhome.
Cheaper accommodation

Accommodations is just like car rentals. The prices during spring can be 50% lower than high season (Often 30 - 40% cheaper) 
I usually start to look for the cheapest accommodation on Booking.com. Many times they have really great offers and discounts. 
AirBnB can be very often one of the cheapest options. Although in Iceland AirBnB options are quite limited. If you're not using AirBnB yet, you can sign up by using my referral link and you'll get up to $35 discount for your first stay. I would love this since I get some travel credit too :) Win, win, win:). 
Hey Iceland is one of my favourite resources to look for an accommodation in Iceland, be it winter or spring. It's a network of farm stays all around Iceland. Their prices are interesting especially during low season.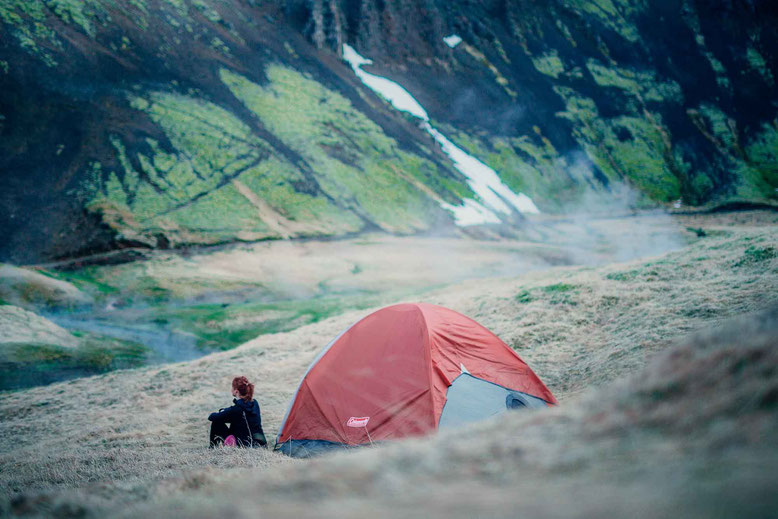 Things to do in Iceland in spring
There is a huge range of things and tours you can do in spring, and it all depends on what month you're in.
Good option is that you rent a car and go explore hundreds of waterfalls and hot springs by yourself. 
There's nothing better then a good soak in hot water while letting the raindrops, or snowflakes, fall on your happy body.
Also there are tours you can do during any time of year including in spring. 
Here is a list of a few of them:
Things to do and see in March:
Blue ice caves - March is the last month you can tour into the fantasy world of blue ice caves (book your trip in advance as it's a very popular tour and books out really fast)
Northern lights - March is a great month to visit Iceland if you want to see northern lights, and also have enough daylight (10+ hours) to explore around without rushing. You can go and hunt the lights by yourself, or you can go with a tour.
Things to do and see in April:
Northern lights - until mid of April is your last chance to see the northern lights. There is already too much light in the second half of April. You can go and hunt the lights by yourself, or you can pick a tour. Tours run till around 15th of April.
Puffin birds - mid April you'll have your first chance to see puffin birds at Westman Islands.
Lake and river fishing - starting the 1st of April
Things to do and see in May:
Puffin birds 
Lupin flowers - they start to bloom at the end of May, especially in the southern part of Iceland
Things to do and see in June: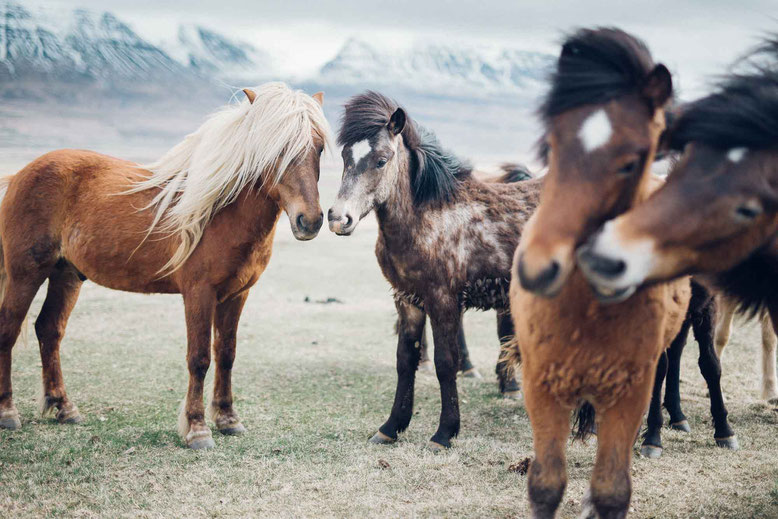 Driving in Iceland in spring
Do I need a 4WD?
Renting a 4WD car is basically double the price of what you would pay for 2WD car and renting is already quite expensive. True, you will feel way safer with a 4WD. So if your budget allows it, I would go for the 4WD. But if you can't afford it, 2WD is fine so long as you respect the weather and road conditions.
Note that in winter I have been driving 2WD in Iceland without any complications. Just stick on the road and drive safely. Especially in March the weather can be still wintery harsh.
I rented my car via Rentalcars.com after long research when looking for the cheapest deal. They often have the cheapest deals for car rental in Iceland and in the world in general.
How many days do I need to get around Iceland?
There is a main road going around the entire island. It's called the Ring Road or Route 1. It's long (1332 km or 828 miles) and has two lanes, one in each direction.
While most of the Ring Road is paved, there is parts that are not. Especially in the north where you will find gravel and even dirt roads.
That being said I have seen some big changes between my Iceland stays.
There is so much to see around Iceland!
So many stops and so many viewpoints, that you could easily be driving around Iceland for weeks.
To get the most out of the Ring Road, I would say two weeks would be optimal. But if you have just one week, you should be able to do it as well. Allow yourself two spare days just in case the weather worsens. Heavy rain and closed flooded roads are not so rare in Iceland.
If you are tight on time and don't want to feel rushed, I recommend just explore the south east coast of Iceland. There is a lot to see and explore all the way from Reykjavík to Höfn. If you have spare time after, you can explore Sneafellsness peninsula not far from Reykjavík on the west coast.
Scroll down this older article of mine, to see my one week driving itinerary.
Will I be able to drive to highlands in spring?
There are many roads inland and all of them are gravel/dirt roads. They called them F roads and some of the gravel roads have next to no maintenance. Some of the dirt roads have none.
You will definitely need a 4WD to be able to drive most of them. Also you will have to wait till summer to explore the inland beauty of Iceland. Highlands are covered with snow till about mid June. Until then it's better to stick around the Ring Road.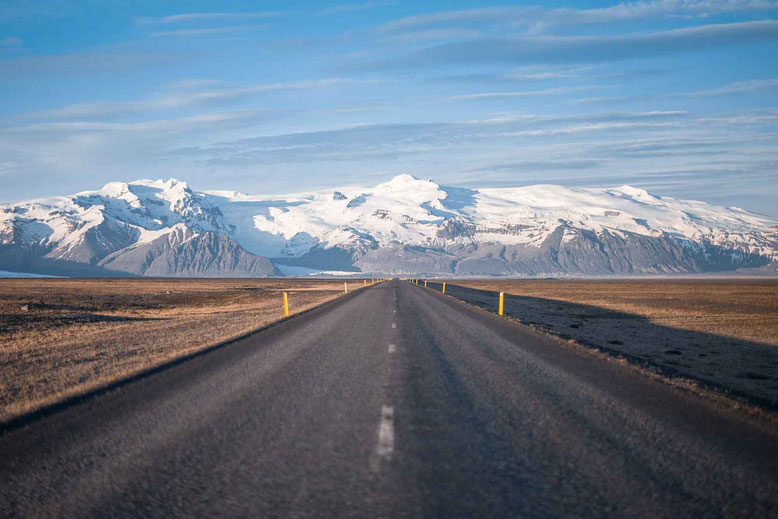 What clothes should you bring for spring in Iceland?
When it comes to dressing for the weather in spring, don't believe anything you see – by the time you've put your jacket on, the weather may have changed for the worse, or better.
Bring good footwear and warm clothes no matter what it's like when you set out. It should also be windproof and waterproof. Good long raincoat will also be very handy. Plan to dress in layers so you can cope with a range of temperatures.
A walking stick or trekking poles can be very useful when navigating muddy, slippery, or other difficult terrain. Collapsible poles will fit easily in your checked luggage. Don't stress too much if you don't have them, I have a feeling you'll do just fine :)
If you're out seeing the sights in a city or urban area, an umbrella is a good idea, unless it's very windy (which happens in Iceland).
Sunglasses are also a good idea.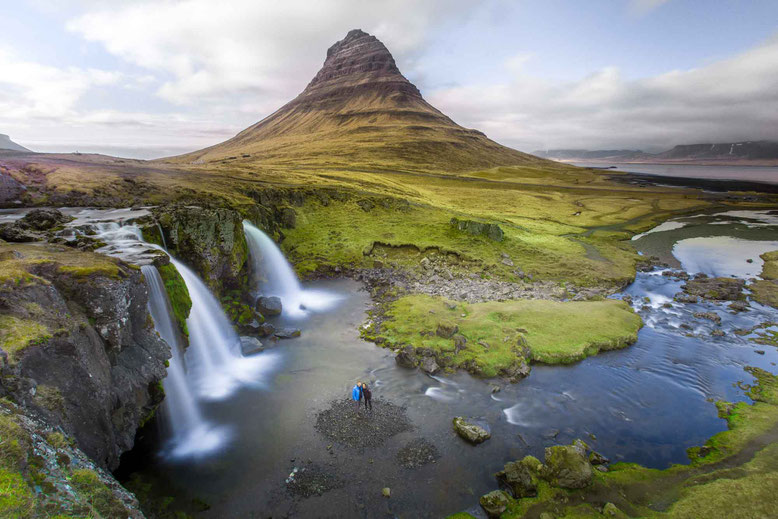 What is the weather like in Iceland in spring?
You guess right! Weather in Iceland can be very unpredictable.
Weather and temperatures in Iceland can change quickly, no matter in which month you're there. Snow storm can turn into sunshine in a minute and vice versa .
March - It's very cold with the average temperature being less than 1°C (34°F). Many times you may have a feeling that spring is coming but it likely won't. Heavy snowfalls are pretty common instead. The landscape is still sleeping and covered with snow.

Day length has already reached 10+ hours, so you have plenty of time to explore.

average temperature: 0,9°C  (33,6°F)
average of lowest recorded temperature: -9,5°C  (14,9°F)
average of highest recorded temperature: 8,6°C  (47,44°F)
April - The land is still very cold and blanketed in snow.

The days are getting significantly longer with 13+ hours of daylight.

average temperature: 3,1°C  (38°F)
average of lowest recorded temperature: -6,4°C  (20,4°F)
average of highest recorded temperature: 10,8°C  (51,51°F)
May - to the end of May nature is finally waking up. You can spot some flowers, the grass is turning green and trees are full of leaves. There is not so much rain and it's less windy. Sunsets and sunrises are crazy long.

Expect 16+ hours of daylight.

average temperature: 6,5°C  (43,7°F)
average of lowest recorded temperature: -2,2°C  (28°F)
average of highest recorded temperature: 14,5°C  (58,2°F)

June - Landscape is finally lush like the tourist brochures,

Days are endless with 20+ hours of light

average temperature is 9,4°C (50°F)
average of lowest recorded temperature: 3,1°C (37,5°F)
average of highest recorded temperature: 16,6°C (62°F)
Useful resources whilst you are in Iceland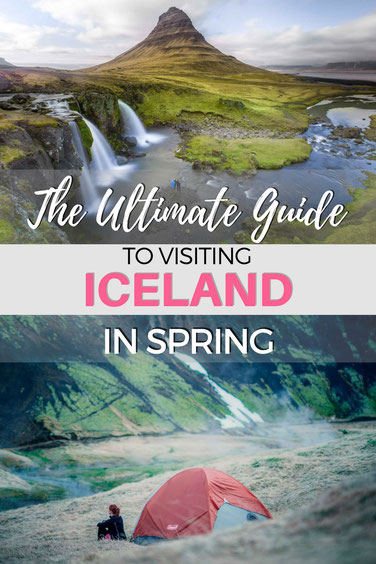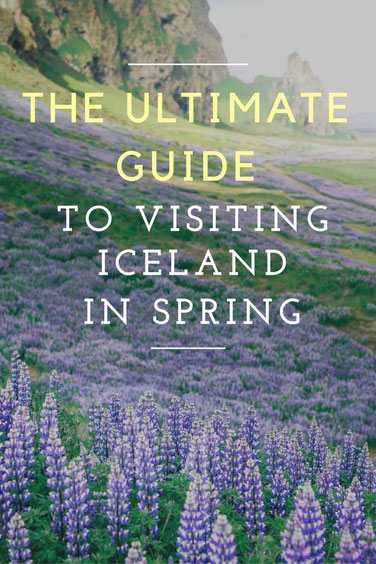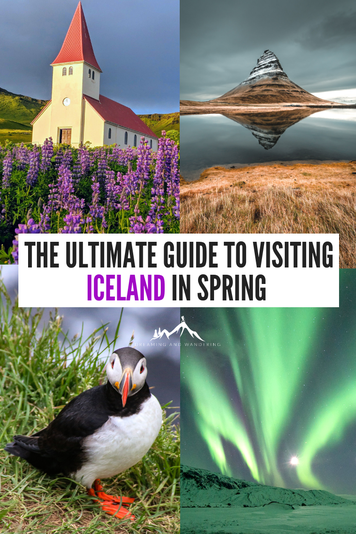 Have a question? Feel free to ask in the comments below.
Wanna know what camera gear I use?
Thank you for reading and go ahead and follow me on facebook or instagram to explore the world with me as I publish pictures and stories along the way.
Martina
**Disclosure: This article contains affiliate links, which means I receive a small commission if you make a booking using the link. It won't cost you a penny but it will help me to maintain this website and write more helpful articles in future. 
---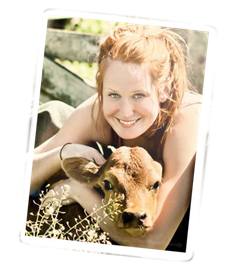 ABOUT THE AUTHOR
Oh hello! Welcome to my page where we all are allowed to Dream Big and we all are encouraged to Wander Far. My name is Marti and here you can read more about me. I am originally from Czech Republic and my story doesn't from many similar travellers - in 2011 I quit my well-paid job in film industry to travel the world which was always my dream. I visited 60+ countries and you can find me exploring deserted islands in South Pacific or diving with whale sharks in Philippines, prospecting for gold in New Zealand or building an igloo above the Polar Circle. Let's join me on my journey around the globe!
---