Looking back at all my travels, I feel so grateful for all the opportunities I've had in my life. 
2015 was for me the year of one ended relationship and the year of many new beautiful friendships. The year of hiking the mountains, picking cherries and surfing the ocean. The year full of new challenges and my first year of blogging - which reminds me - I feel so humble that so many of you follow along.
OK, let's get to it - these are 15 of my most powerful travel memories in the past year. Not necessarily my best pictures here, but the most memorable and important to me. I put them down in chronological order: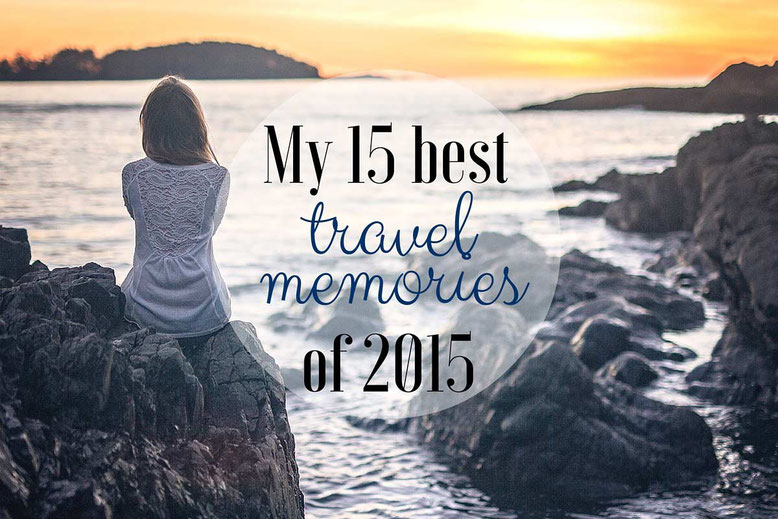 15| On the healing road from Calgary to the Rocky Mountains
This picture was taken on 30th December of 2014, but so important for 2015 that I couldn't leave it.
Wait, there is a whole story coming:
At the beginning of December I flew from Iceland to Canada to live in Montreál with my (ex)boyfriend from Argentina, who got a job there after a long process and big effort.
We met in New Zealand in 2011, travelled a big part of the world together and haven't seen each other for a year and half(!). But there was no happy end in Montreál as many people expected. I guess I was the biggest reason, because so long as I am the child of nature, I couldn't stand up the idea of staying in the big city like Montreál.
But I didn't have money, my ex-boyfriend was actually so generous to borrow me money for the ticket to the west and also $200 in cash.
I was good for a while. For a few days I was couchsurfing in Ottawa, then I flew to Calgary. I remember I walked in the city with dozens of resumés, trying to find a job. Any job. Longer I walked streets of Calgary, more I knew I had to runaway as that city felt quite a bit depressive to my hurt soul.
After four days of lingering between glass and concrete, I finally got a call and was invited to Banff for an interview - housekeeping. Nothing was guaranteed, but I felt it's time to go.
On internet I found a guy who drove to Banff on the very next day, so we hit the road. And when I see this picture I can still feel all my emotions like it was today. When we were getting closer and closer to mountains, I knew I made the right decision to leave everything behind and go to the mountains. I had only $40 in my pocket, no job, no place to stay, but I was so relaxed and... happy.
My soul started to heal in these mountains. Literally.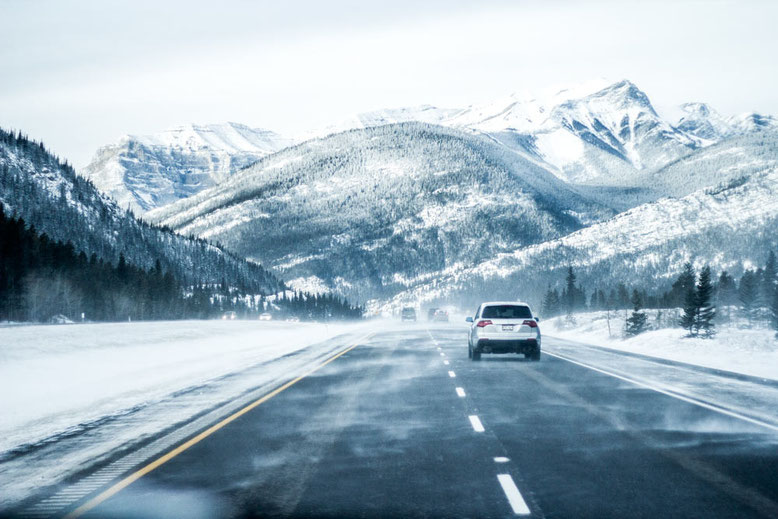 14| Banff - magical and welcoming
So I landed my interview in Banff, was offered a job of a housekeeper at the hotel and a bed in the staff house! And I got the best room mate I could have ever wished for. A young guy from New Zealand - a guy with a sparkle in his eyes, a guy a was about to have many adventures in next few month. Nathan (miss you so much my friend!)
I totally fell in love with Banff!
I've spent in Banff five months, but I know I'll keep it in my heart forever.
Once I stepped there, I felt cozy and welcome. It is surrounded by the most beautiful mountains I've ever seen, deers are walking in your garden and there is so many winter and summer activities and many sport, enviromental and artistic events.
In Banff I had some of my best times in my life and met people I will never forget.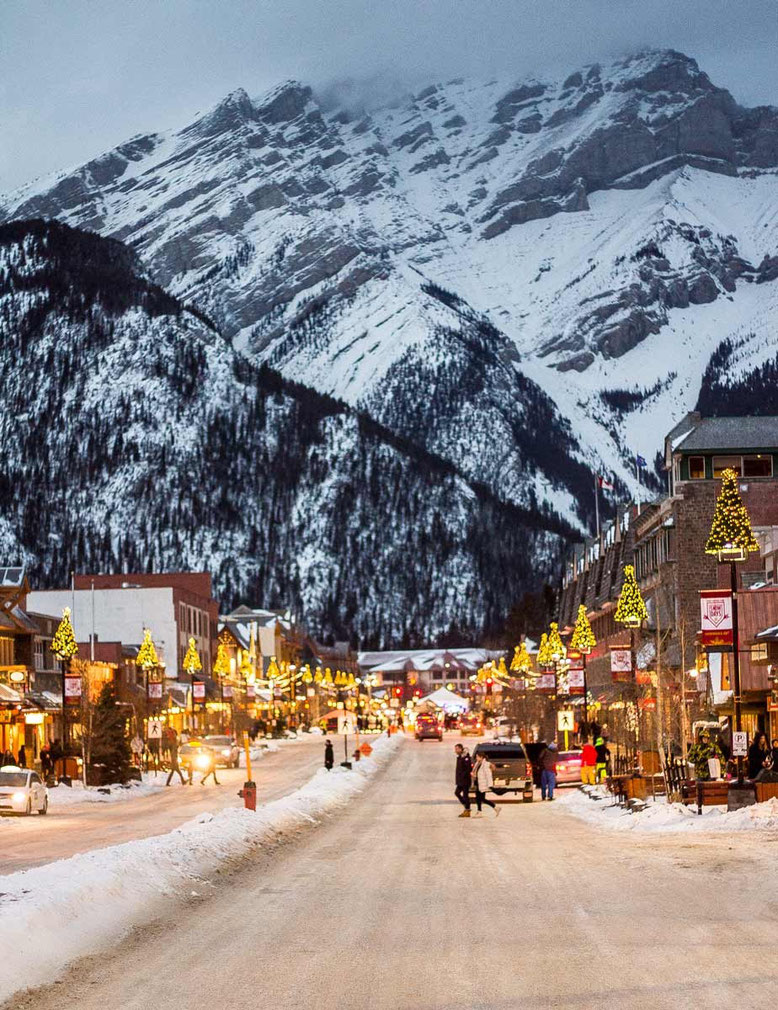 13| Chasing sunset on Sulphur Mountain
Another special day. I met Ike from Israel when I was cleaning his room (isn't it from some movie?) Spontaneously we decided to climb up the Sulphur Mountain and play music together, with sandwiches, beer, guitar and ukulele.  
That day it was around -20 degrees Celsius, the air was crisp and clear when we started to climb.
I don't like shallow conversation and I often don't meet people I want to truly talk with, but with Ike we had some special and funny moments while playing silly-smart games on the way up. We didn't play our guitar and ukulele much as our fingers would be freezing when hitting strings, but it was perfect anyway.  
It took us less than three hours to climb to the summit, we opened our beer and were soaking in the beautiful sunset.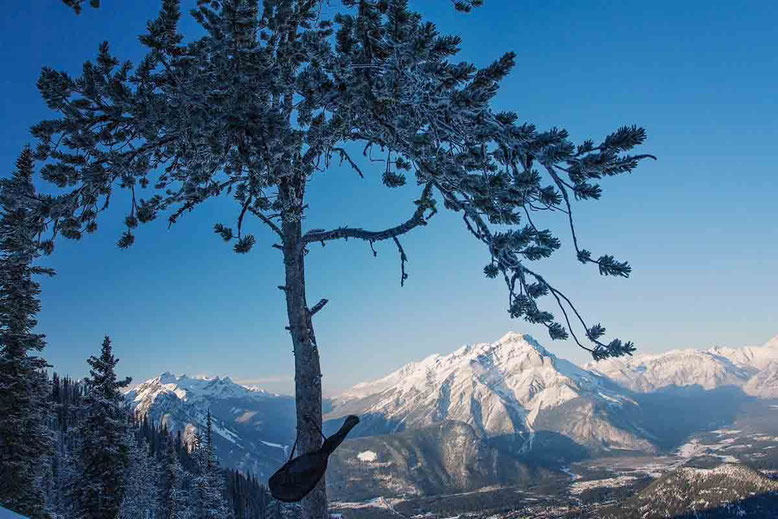 12| Winter swimming in Vermillion Lakes
I looked for a place to swim in winter for a long time and on one trip I came across Vermillion Lakes located within a walk from Banff. A perfect place to have some refreshing bath! I started to provoke Nathan to have a dip with me for so long till he finally  jumped there.
I love these short-term discomforts and challenges. Things like this make me feel alive and are the ones to remember. I prompt you to do the same. - If it won't kill you it will only make you stronger :)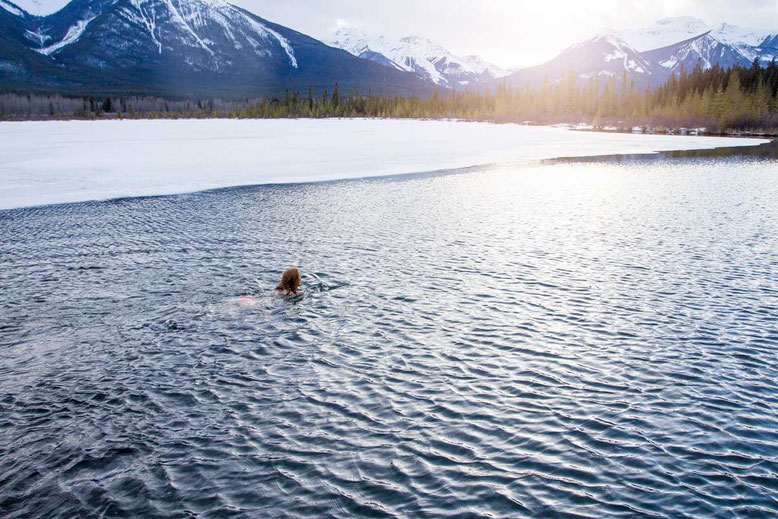 11| Bonfire and swimming in frozen waterfall
Just a few days after swimming in Vermillion Lakes, we got a new member to our winter swimming club. My dear beautiful Amelia from Canada.
We planned to hike Johnston Canyon. A spectacular place in summer and even more magical in winter. The hike on itself is incredibly beautiful. You walk along the bluest water you've ever seen, the waterfalls are turned into amazing cascade icy formations and huge icicles.
After hiking about eight miles, we provoked each other to take a swim in one of the waterfalls. First we made a bonfire and opened a bottle of Fireball to warm ourselves and then one by one we slipped into water so cold that already dipping your toe hurts (actually crazy Nathan jumped from the top of waterfall). I honestly don't think I spent in more than a minute and fire and Fireball after felt like a balm to our frozen souls.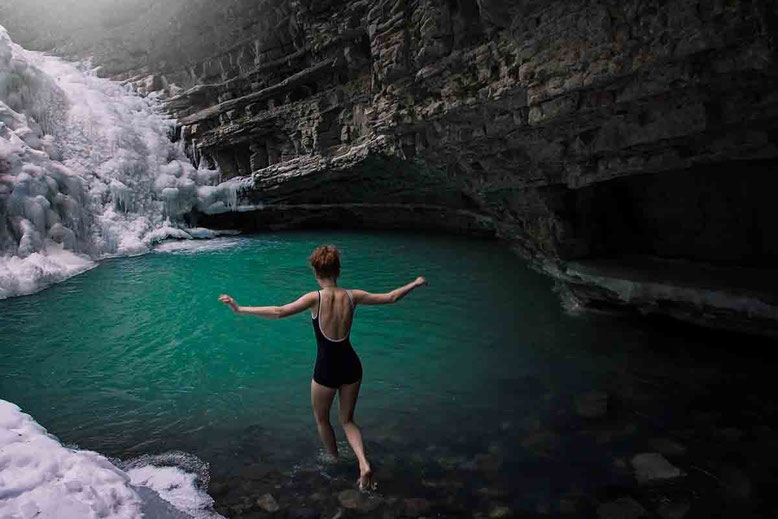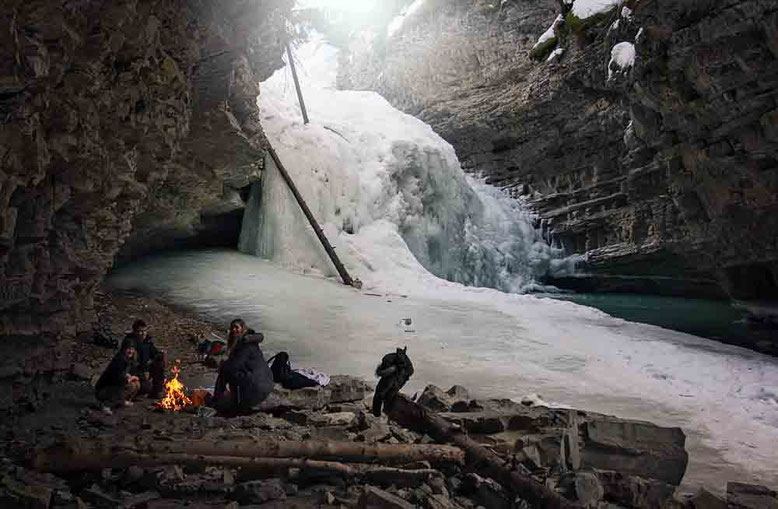 10| Living in paradise of Kalalau Beach
In March it was time to take a break from work and I decided to meet my friend from Prague in Hawaii.
We planned to visit the island of Kauai for almost a month and of course I couldn't leave Nathan behind - he's a great surfer and Kauai is known for being one of the world class surfing destinations.
After some surfing and chilling days we hiked incredible Kalau trail in Na Pali coast, known from movies like Jurrasic Park, King Kong and Indiana Jones. And it was like stepping back in time.
After 18km strenous hike we finally pitched our tent under the old kalamani tree on the most beautiful beach I've ever been to. We had a well-deserved shower in waterfall falling down from rugged cliffs, and enjoyed a bonfire while watching sun setting down in to the ocean.
This rainbow on second day only confirmed we are really in unique paradise.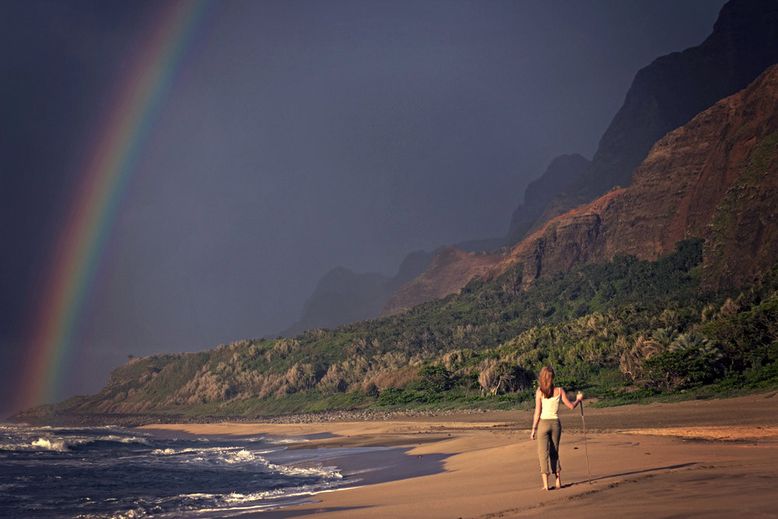 09| Exploring Waimea Canyon in Kauai
I was never told Grand Canyon had a handsome brother. And to me even more attractive!
Red soil, deep lush valleys and beautiful waterfalls. Still can't believe this place is real and its beauty doesn't attract more crowds.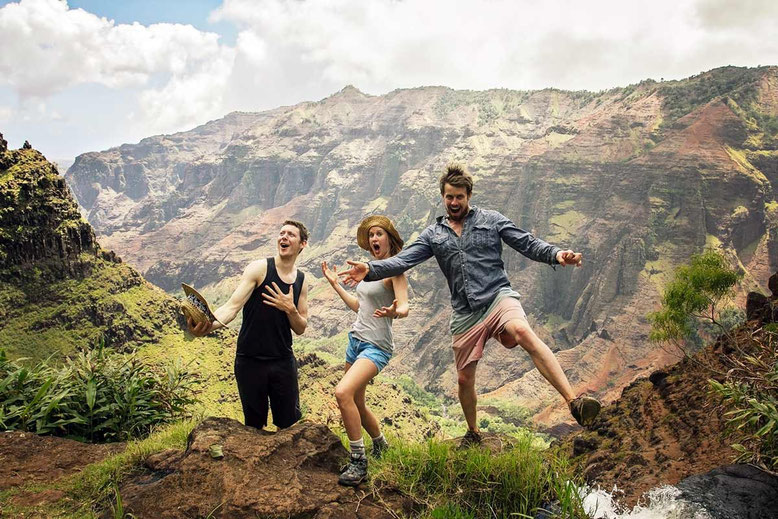 08| My first bear!
I longed for this moment so long and in May I finally saw him. He walked slowly in the bush, a bit confused after sleeping all winter.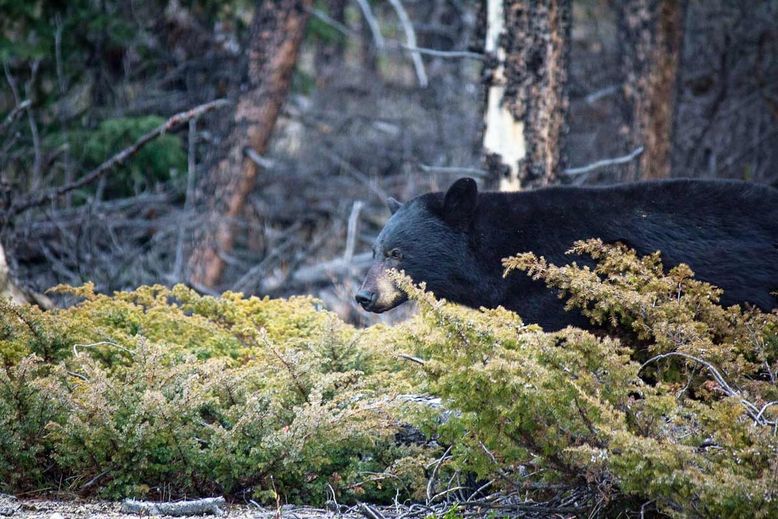 07| The bluest blue of Moraine Lake
OK, so you stand here with your mouth open… The. Bluest. Jaw-dropping. Blue.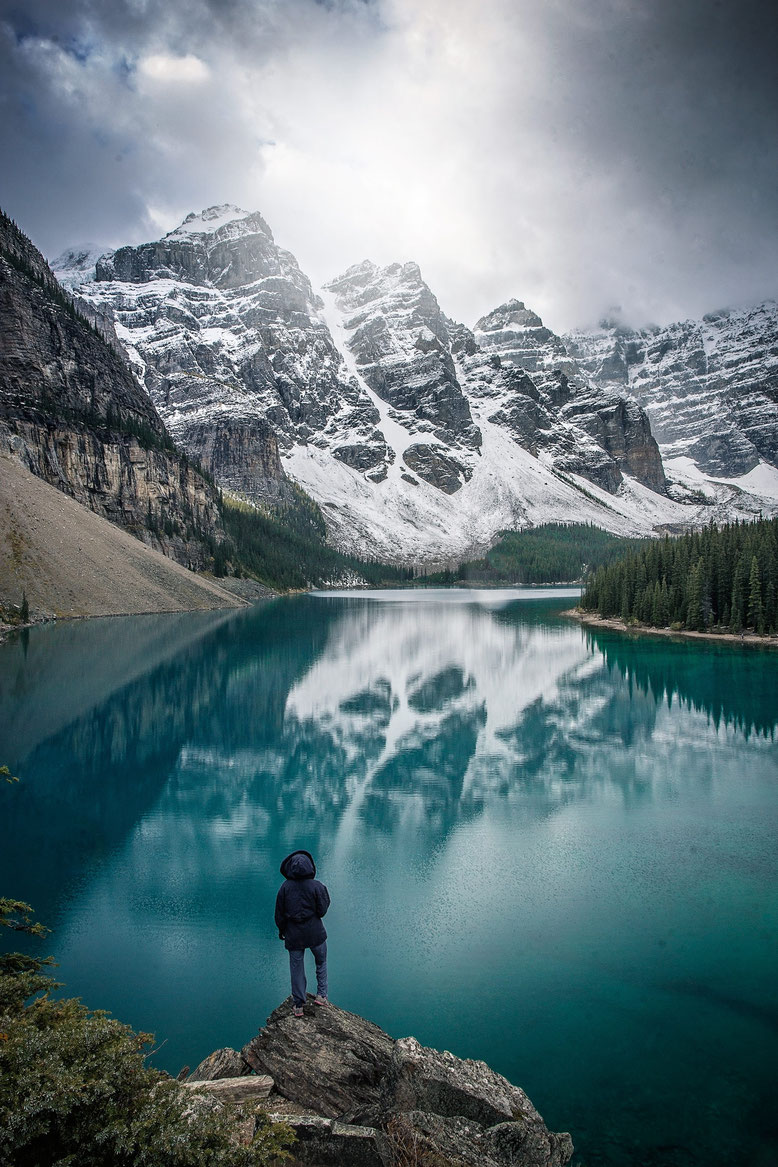 06| Six days hiking of the West Coast Trail
Hundreds years ago ships were sinking one by one along this rough coastline on Vancouver Island. Therefore this trail was originally constructed as a lifeline for those who dared sail beyond the reefs and breakers of Vancouver Island's southern coast.
West Coast Trail is called the Graveyard of the Pacific and is one the most beautiful trails in the world. I can only confirm that. It is so wild, every night I camped on the beach, grey whales were following my steps and eagles were watching me from above. I was even so lucky to spot one cougar from only about 12m.(like really lucky, most of Canadians have never seen them). And no, I don't have a picture, it was gone before I could realize what eyes are watching me!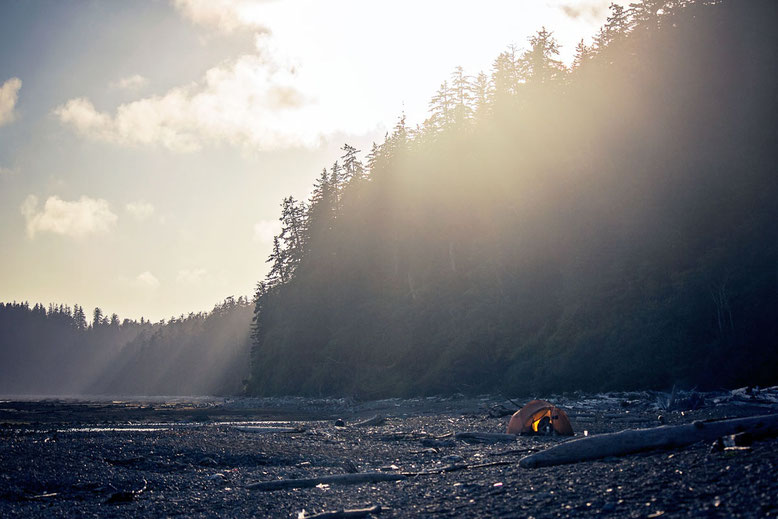 05| Camping under Mt. Assiniboine
If you put together majestic Canadian Rockies and a group of like-minded people, your trip can't go wrong. These peaceful moments when we were pitching tents in one of campgrounds under Mt. Assiniboine. This six-day trip will stay deep in my heart forever.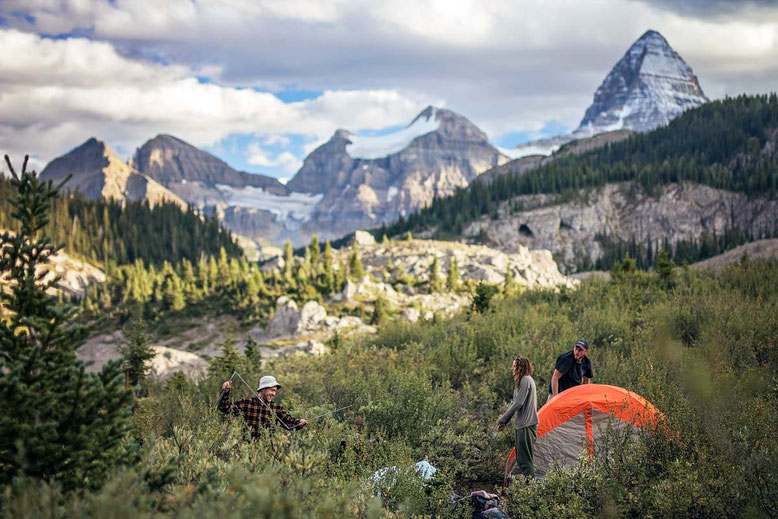 04| Silence of the Berg Lake
I cried. I cried a lot while hiking 22km up to this lake.
I can't say it was a hard trail, but I was sick. It was raining a lot and strong wind was slowing me down. Exhausted I put my tent up by the lake right before darkness came from behind mountains and I fell asleep immediately.
In the morning I woke up to the snow landscape. As the snow was getting into my tent, I was forced to get up really early and with a cup of green tea I sat on the shore of Berg Lake. There was not a single soul. The water was so calm and the silence was only interrupt by crackling of glaciers hanging above the lake.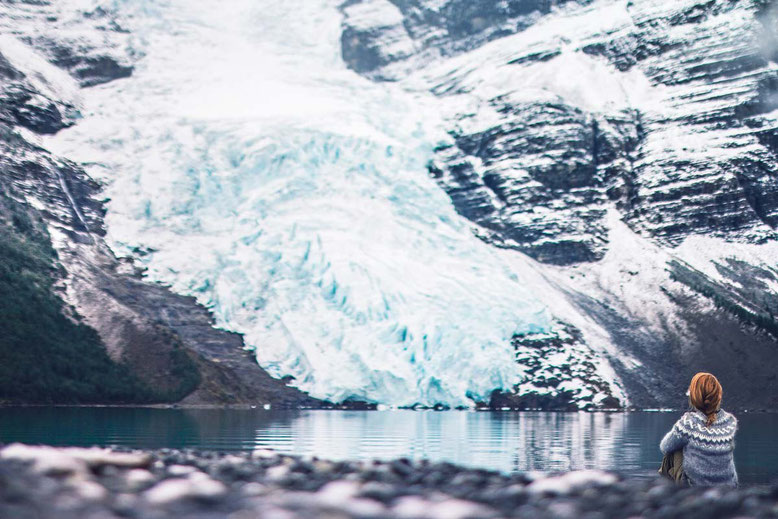 03| Sloquet hot springs
That day when I discovered this spiritual place… oh my!
It's so hard to describe this special place. It took me and my campervan on 15-km-per-hour-road about four hours to get there, but it was all so worth it!
Sloquet hot springs lie on the sacred land of the first nation people. In the deep red cedar woods where the blue icy river flows. Stones and trees are heavily covered with moss, and everywhere are beautiful hand made dreamcatchers and candle lanters. And the best thing indeed - the hot water filling many small pools comes from a mystical waterfall cascading down the black cliff and you are just lying there, melting there thinking it's just too magical to be real...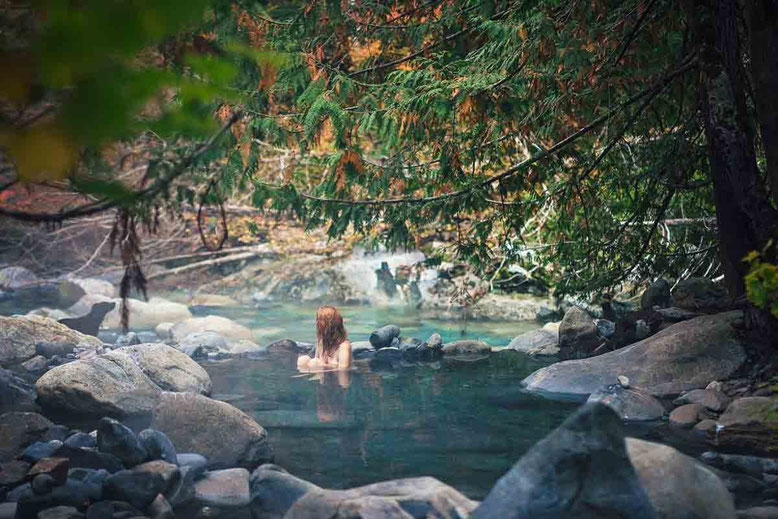 02| Whiskey Jack wannabe friend
I knew the Cinderella and Snowhite are the real stories! I just knew that! And they must have origin in Canada, otherwise I can't explain these curious beauties.
Just straight your arm in front of you and wait…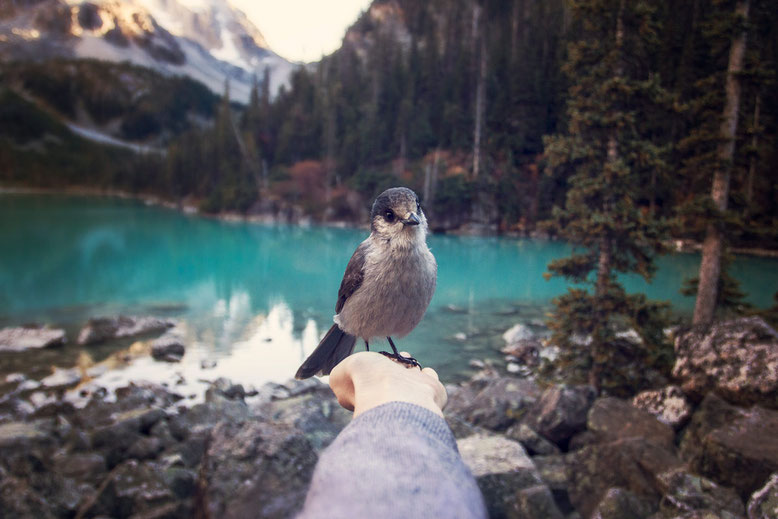 01| Reunion with the Pacific Ocean in Tofino
The ocean is always calling my name wherever I am (you know, Pisces :o) ).
After really hot summer I spent in Okanagan Valley in British Columbia, I couldn't wait to be back to the ocean. I choose to go to Tofino on Vancouver Island, so I could surf and explore rainforests and islands. 
It's where I said hello to the great year of 2016.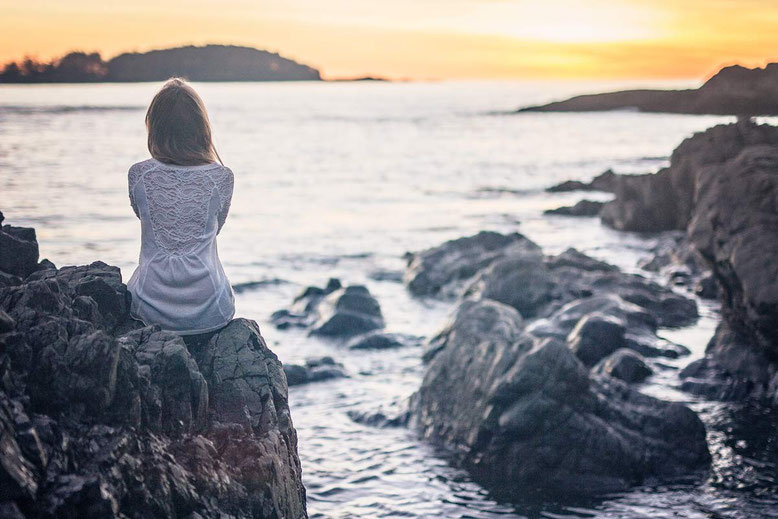 ---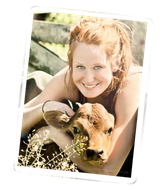 ABOUT THE AUTHOR
Martina Gebarovska is a traveller and photographer originally from Czech Republic. In 2010 she quit her well-paid job in film industry to travel the world and live the life she has always dreamed about. She visited over 50 countries and when not exploring deserted islands in South Pacific or diving with whale sharks in Philippines, you might can find her prospecting for some gold in New Zealand, surfing waves in Morocco or reaching summits in the Canadian Rockies.  
---
Leave the comment: