To be honest, visiting Hawaii was never my dream. As I am always in search of remote places with less (or no) tourists and rather authentic local vibes, I never thought Hawaii had much to offer me.
That is until one day about two years ago, when I saw pictures of an island from my dreams - an island draped in emerald valleys, sharp mountain spires and jagged cliffs, aged by time and the elements. The most pristine and secluded of the four major islands of Hawaii, the least populated and least visited of all of them. A place where the feeling of old Hawaii still lives.  An island with the mysterious name KAUAI.
The locals say that if you want to experience the Hawaii before the hotel building boom, come to Kauai.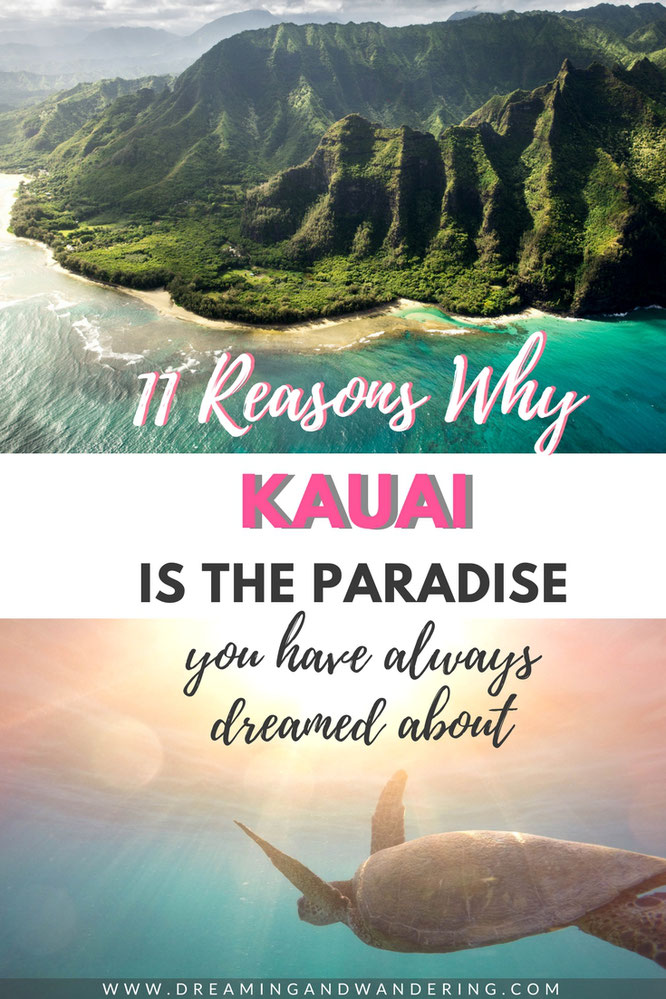 After a short research, Kauai seemed to have exactly what I was always looking for - jungles, waterfalls, mild temperatures, less tourists, great hiking, diving and surfing. So, when I found a return flight from Calgary in Canada to Kauai just for 420 CAD, I didn't hesitate for one second... I booked my ticket to paradise!
... you already know that I love maps:
So why is Kauai place you should visit if you crave for real paradise?
---
01| Na Pali Coast
You're sure to have seen movies like Jurassic Park, Avatar, King Kong or Raiders of the Lost Ark – the lush mountains and valleys, waterfalls and beaches, bays and inlets that featured in those films are all to be found in Kauai. Especially ruggedly beautiful Na Pali Coast is taking places in some of the scenes.
'It is slice of isolated, tropical paradise. It is so fertile, that a castaway could survive there simply on the large amount of wild fruit, such as guavas and grapefruit, that grows along its coast. '

You will be amazed when you see it. It is breathtaking, truly unbelievable scenery. I PROMISE YOU - it's one of the most beautiful places you will ever see in our world and if there is just one reason to visit Kauai, it would be the Na Pali Coast, located on northwest side of the island.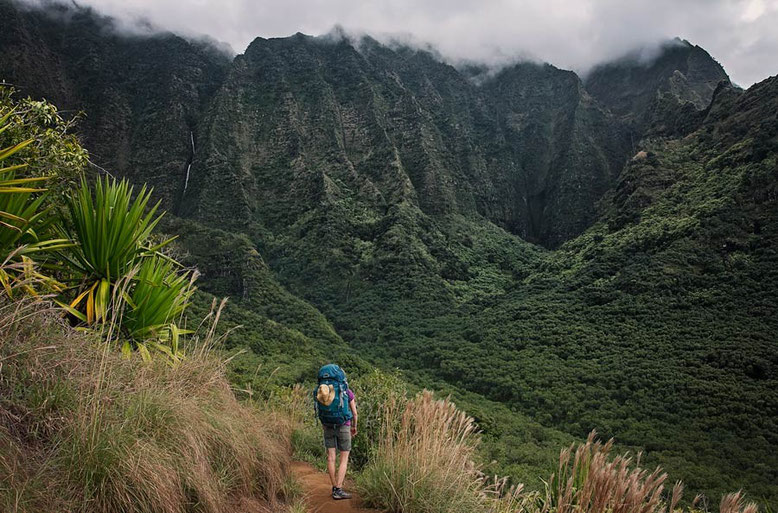 There are only  two legal ways to access the valley.
Either by kayak or by hiking the Kalalau Trail - a rugged 11-mile (18 km) trek to Kalalau Beach winding along the cliffs, through valleys and over streams. It took me around 6-7 hours to hike it, and I am not a novice hiker. To do the hike you will need to obtain a permit and pay a camping fee -  $20/night ( $15 if you are a resident of Hawaii).
Important! Plan ahead as permits can sell out up to a year in advance during busy times. 
Your other options are to take a boat or flight tour, which might seem to be a bit pricey, but truly rewarding. I did not take any of those and still regret it. The views from the ocean or air are simply out of this world and I encourage you to spend that money right away!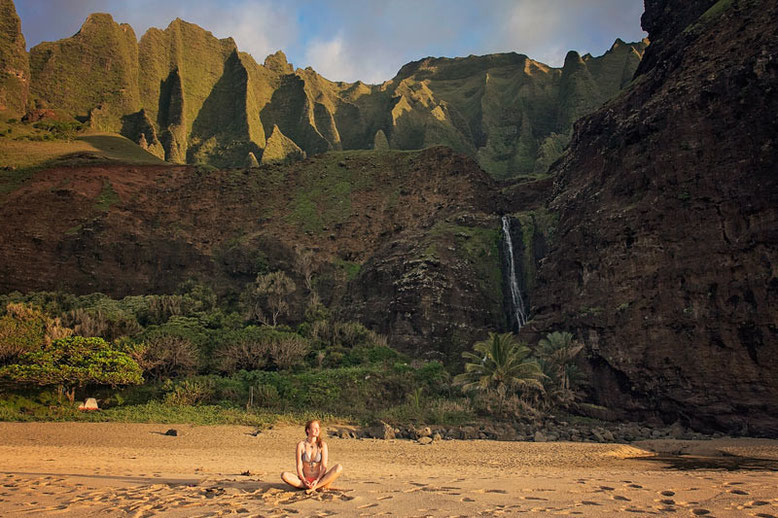 02| World class snorkelling and diving
If you ever wanted to swim with sea turtles, dolphins or rays in the ocean, Kauai will most likely make your dreams come true.
Since Kauai is millions of years older than the other inhabited islands in the Hawaiian island chain, it has by far the most protective reef lagoons and therefore some of Hawaii's best snorkel spots!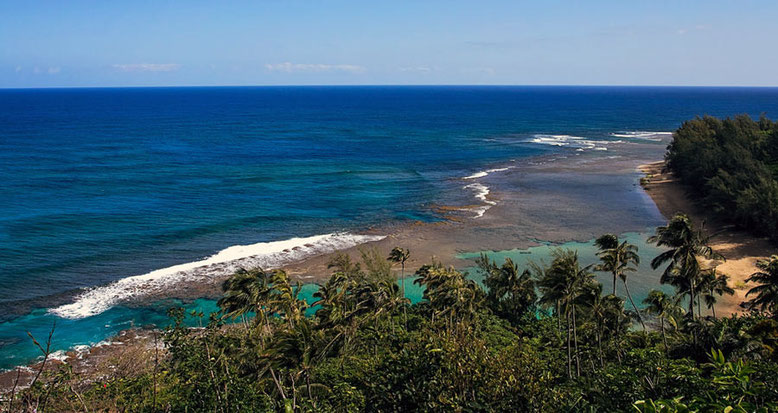 There are many beautiful coral reefs full of marine life all around the island!
Amazing Ke'e Beach and Tunnels Beach on the Eden-like north shore are my favourite ones with the most beautiful scenery, clear warm water and rich underwater life. Colorful tropical fish, lots and lots of giant turtles and even a few reef sharks and rays. There are plenty of other great snorkelling spots like Anini Beach on north shore, family-friendly beach Lydgate Park on eastside or world-famous Poipu Beach on south.
If you want to travel light, you can leave your snorkel gear at home and rent it at many places around Kauai for very cheap, starting at only $10 per week!
Experienced divers will generally find thrilling spots on the east and west shores, while those new to scuba should start on the north or south shores (Hanalei, Kee Beach, or Poipu Beach). The more advanced dives include cave exploration and lava tubes.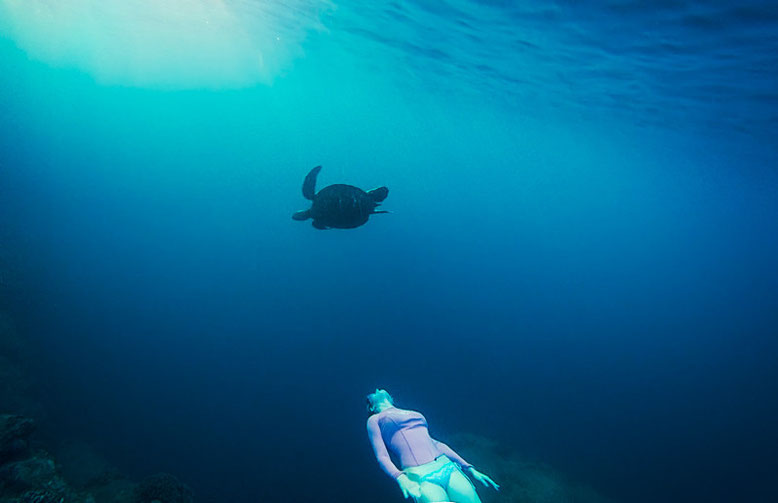 03| Pristine beaches 
Hands up who's avoiding overcrowded places as well!
No, you wouldn't catch my pale butt on Waikiki Beach on Oahu Island even if you'd pay me!
But Kauai... my oh my! With 90 miles of spectacular coastline, Kauai boasts more beaches per mile than any other Hawaiian Island, and almost half of its coastline is virtually deserted, making it easy to find solitude on an unspoiled, un-crowded beach.
Some of Kauai's beaches are accessible only by trail, others by helicopter or solely by sea - but most are available to all visitors. There are beaches full of drama with crashing waves, while others are calm and tranquil.  Whether you are interested in snorkeling, surfing or sunset meditation, Kauai has a perfect beach for you. Definitely huuuuge reason to visit Kauai.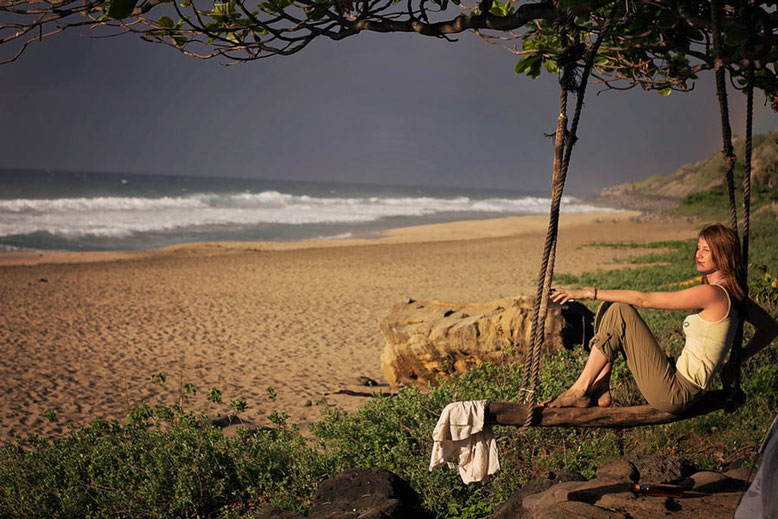 04| Waimea Canyon
With deep valleys, sheer cliffs, waterfalls and incredible colors, it's no wonder that over 100 years ago Mark Twain nicknamed Waimea Canyon the "Grand Canyon of the Pacific". Even though smaller than the Grand Canyon of Arizona, Waimea Canyon rivals in beauty. But to me this place is even more impressive than its big brother GC!
Waimea Canyon is ten miles (16 km) long, up to 3,000 feet (900 m) deep and offers lots of hiking opportunities. I really loved that, so I could admire amazing views of the Waimea canyon from different places around.
Be sure to do a moderate hike down to Waipoo Falls and on the way watch out for wild goats who make the cliffs their home.
If you want to explore Waimea Canyon, there are also plenty of organised tours like this one.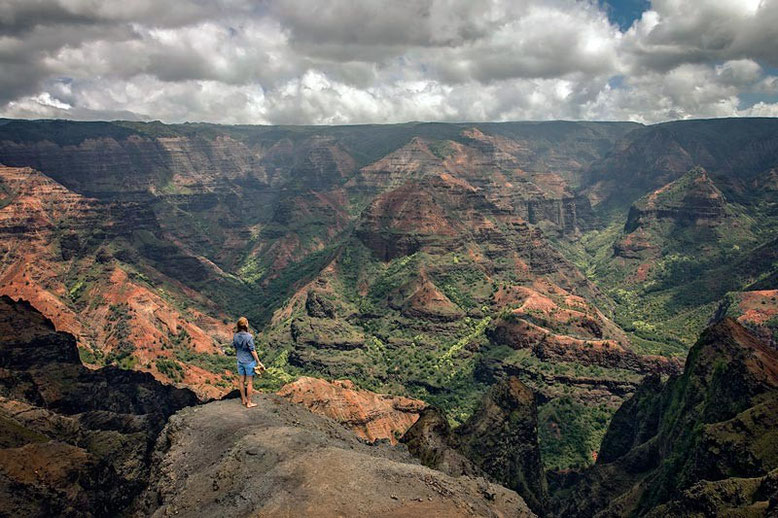 05| Waterfall paradise
On a hot day you can dive into the crystal blue ocean to refresh your heated body...
...or how about a jump into a waterfall?
After all Kauai is a real lush paradise dotted with countless amazing cascades and dramatic natural showers. 
A few of these gorgeous falls are easy to get to, and others take a bit of effort to experience.
To visit Wailua Falls and Opaekaa Falls you can leave your hiking boots behind as the views are just a few steps from the parking lot. On the other hand, to reach the trailhead to Secret Falls you will need to paddle up the Wailua River (you can rent kayak or canoe from several companies in the area).
Some of the most impressive waterfalls like Hanakapiai Falls and Hanakoa falls are the most difficult to get to - they both require some challenging hiking, but to swim in the waterfall pool of your dreams is definitely worth the adventure!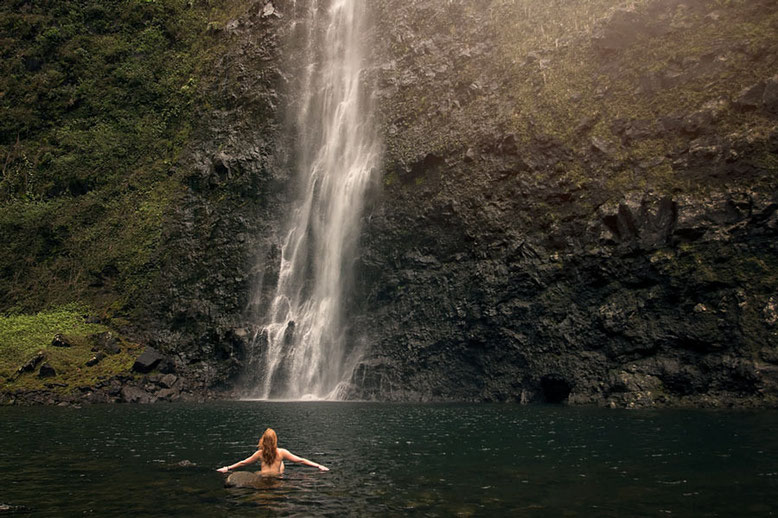 06| Tropical rainforests
There's a good reason that the island of Kauai is called the Garden Island. 
At Mount Wai'ale'ale it rains nearly every day, making it one of the wettest locations on Earth, receiving about 450 inches (11430 mm) of rain each year. No wonder its covered with tropical rainforests, fertile valleys and lush flora.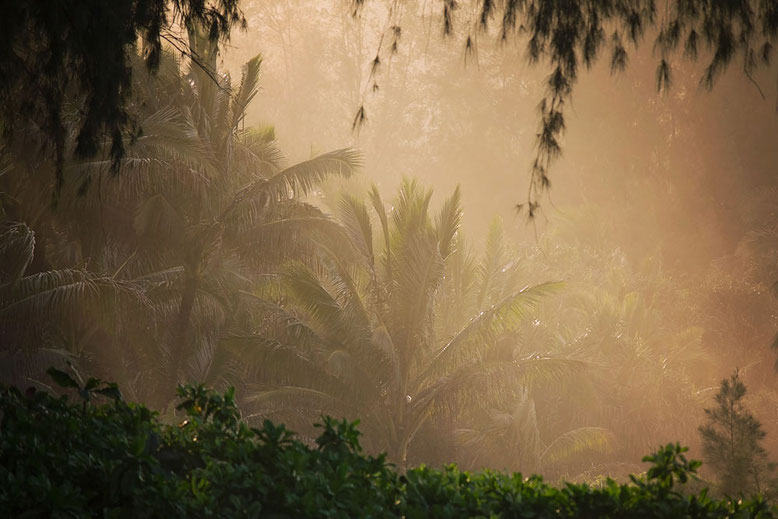 07| Dolphins, whales and monk seals
One day I was surfing waves of Tunnels Beach at north shore and suddenly a school of about 25 spinner dolphins appeared a few meters from me. My heart started to beat like a jungle drum when I saw them leaping high into the air and spinning, before diving back into the water just next to me! They were playing around me for half an hour and then they decided to swim further away into the infinite ocean. I felt so alive in that moment! 
However if you don't feel like sitting on your board a few hundred metres from the shore in shark waters,  your best bet to encounter some dolphins is to book a snorkeling or boat tour with some of the local tour operators.
I also spotted a few humpback whales when hiking the Na Pali Coast. They are so plentiful in the waters of Kauai in winter and early spring. You can go on a whale watching tour or simply spot them from Kauai's beaches and coastal areas as I did.
Another of the amazing animals to be found in Kauai is the Hawaiian Monk Seal. It is one of the most critically endangered animals in the world. Nowadays only 1100 individuals remain! I was privileged to see two of them on Tunnels Beach,  hauling out on the sand, having a long long rest after looking for some food and avoiding their predators like tiger sharks. 
(You see? You must make it up to the north, it really does have so much to offer!) 
08| Mecca of modern surfing
Hawaii is known as the mecca of modern surfing and Kauai is one of the most popular islands to ride some great waves. 
With a drive time of less than ninety minutes from one end of the island to the other, surfing the waves of Kauai will never be monotonous. The "Garden Island" receives both long distance swells and waves that result from surrounding winds on all four sides of the landmass.
What makes Kauai also attractive for surfers of all ability levels is its variety of difficulty throughout the island and accessible beaches and surf spots.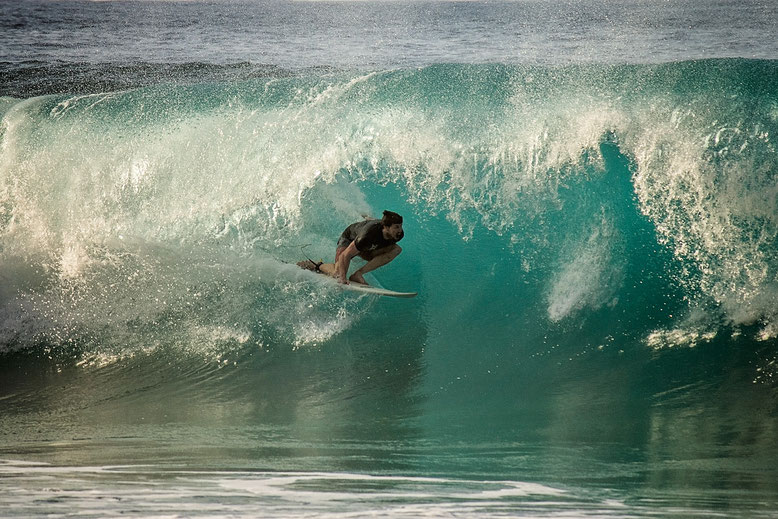 If you are a beginner surfer, Kiahuna Beach on the southeast corner of Kauai will be your best choice . 
For the intermediate rider, Hanalei Bay in the north is the place to be. 
More advanced riders may want to head to the most western point of the island to hit the seventeen mile, white sand wonder of Polihale Beach. Another spot for more experienced surfers can be found at Haena Beach, a sandy heaven nestled among the mountains on the north shore. Shipwreck Beach is another surfing area not to be missed.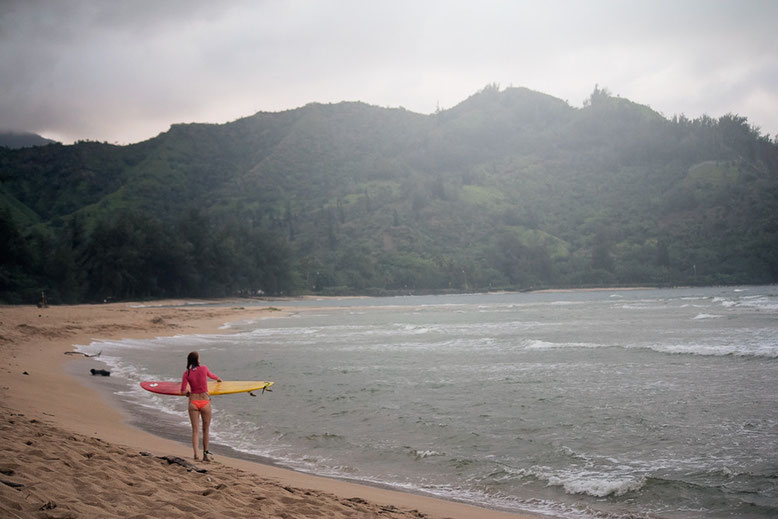 09| Shave ice
Alright alright, I confess! I love to eat fresh snow in winter... actually, a loooot of snow! I always thought that next to fresh watermelon and coconut, it would be the perfect food for hot summer days.
In Kauai I have found what I was looking for all my life, and I officially fell for shave ice. 
No, it is NOT a snowcone! Snowcones are made of hard, crunchy ice that results in the syrups sinking to the bottom. In contrast, authentic Hawaiian shave ice starts with a solid block of ice that is spun across a razor-sharp blade, creating shavings of fine, fluffy, soft snow. Next, refreshing, surprisingly tasty fruity flavors are poured over the top, being absorbed throughout. Yum!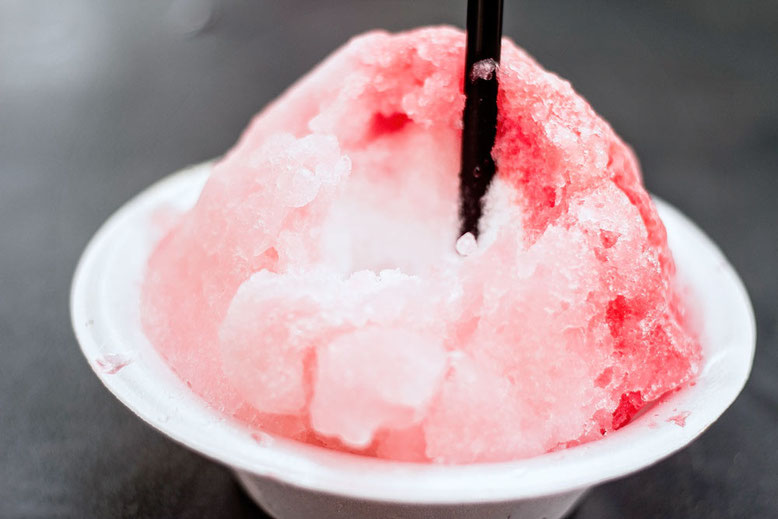 10| Magical sunsets
Kauai has simply some of the most stunning sunsets (and sunrises) that you will ever see. The sky is beautiful, each and everytime and... Just bring an extra memory card for your camera – you're going to need it!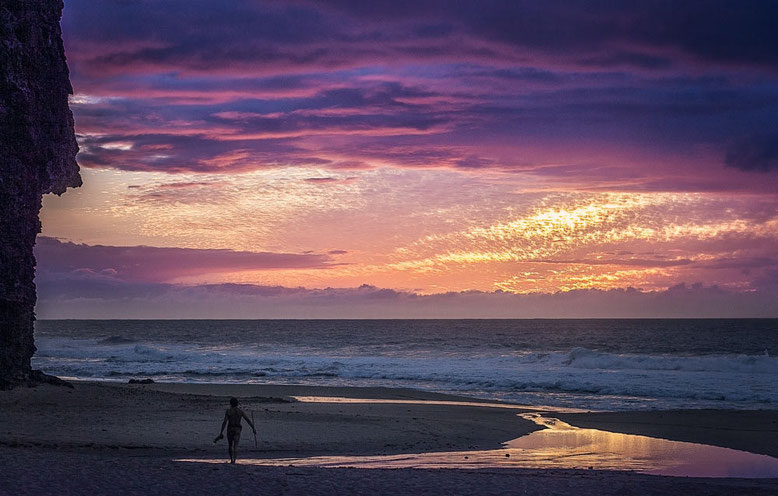 11| Spirituality and People of Kauai
The very moment I stepped on the majestic island of Kauai I felt a special energy. I felt the urge of slowing down, being in the moment, listening inside, and reconnecting with nature and my inner self. 
I looked a bit into the history of Kauai and discovered that even Hawaiian monarchs have long voyaged to its shores to seek solace and spiritual guidance.
As the oldest, most remote and the only unconquered island of the main islands in the Hawaiian chain, Kauai's unique energy and spirit can be felt to this very day - in the beauty of its endemic flora, in the gentle cadence of its beaches and especially, in the free and easygoing nature of its people who are opening their hearts and doors to those who arrive on their shores -They will make you feel at home, so you will never ever want to leave!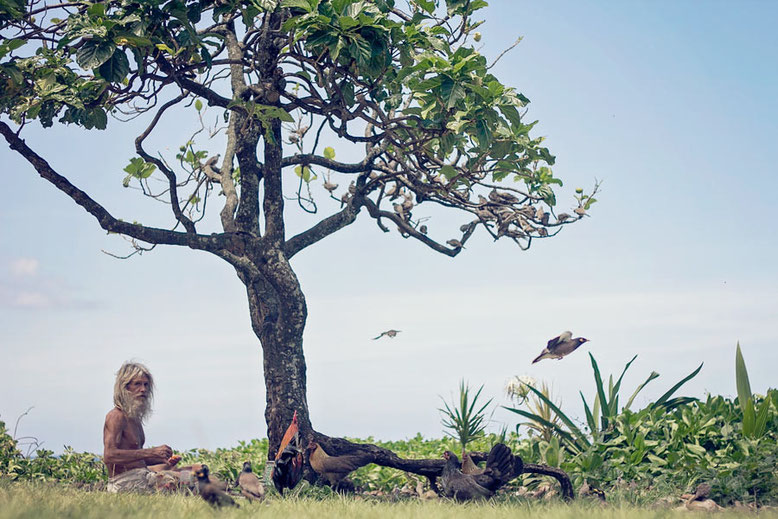 I truly felt I arrived at a spiritual place, one of the planet's "power spots." And whether you will feel the same way or not, you will be enchanted by Kauai anyway:
 Ocean and sky, waterfalls and rivers, forests and mountains will all embrace you as you find your own connection with the spirit of Kauai.
---
Kauai on low budget?
I visited Kauai in April 2015 with two of my friends and we spent there three weeks. You might be now thinking that I must be rich or so, that I can afford such a long vacation full of adventure in a paradise.
The truth is, I only spent $600 (excl. flights)!!! That also includes car rental (we were really lucky to find the most fantastic deal) and surboards rental for the whole stay.
Kauai really can be a heaven for low budget backpackers!
Aside from expensive luxurious resorts and not exactly the cheapest hostels, you can simply camp, as I did.
County camp sites are all around the island (except of the Na Pali Coast) on beautiful ocean-side locations and are very clean and well-maintained. Just checked my photo below (we spent a week at this place, haha!) Site fee is just as low as $3 per night! 
If you don't want to sleep in the tent, you can try AirBnB - if you sign up with this link, you will receive up to 35 dollars discount for your first booking! On Booking.com you can find some pretty sweet deals as well.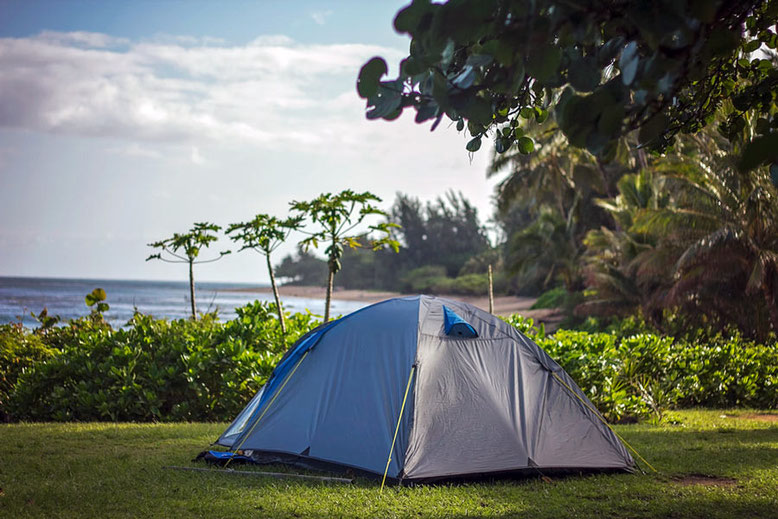 If you are a group of travellers, it's really worth to rent a car, which we did  for less than $400 (three weeks).
But even without a car, it is incredibly easy to move around the island. With a very reasonable traffic from one side of the island to the other and the generous nature of local people, you will be a pretty happy hitchhiker!
You can save lots of money on food indeed. As much as I love to eat, I know if I am not careful, I can easily spend a big part of my budget on food. Hence in Kauai I mostly shopped in big supermarkets before heading towards more remote places.
There is so much to do for cheap or FREE in Kauai - surf the waves, hike the canyon, snorkel with sea turtles, jump into the waterfall, explore the lush forest of Kalalau Valley, visit movie locations, etc. 
You really don 't need to spend a fortune to visit this yet unspoiled island.
Don't hesitate any more and buy your ticket to paradise!
Have you ever visited Kauai or any other island in Hawaii? I would love to hear your experience and get inspired. Please leave me a reply down below. 

---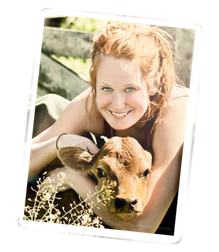 ABOUT THE AUTHOR:
Martina Gebarovska is a traveller and photographer originally from Czech Republic. In 2010 she quit her well-paid job in film industry to travel the world and live the life she has always dreamed about. She visited over 50 countries and when not exploring deserted islands in South Pacific or diving with whale sharks in Philippines, you might can find her prospecting for some gold in New Zealand, surfing waves in Morocco or reaching summits in the Canadian Rockies.  

---
For many more travel tips, photos and stories from my travels, follow me by "liking" the FB page below: