So you've seen those dreamy white landscapes of the mountains with enchanting frozen waterfalls, fluffy thick layer of snow laying on pine trees and you're planning to visit the Canadian Rockies during winter? 
Unsure whether traveling to these breath taking mountains in winter season is a good idea? 
Don't let chilly temperatures, limited hiking opportunities and frozen lakes put you off visiting the Canadian Rockies over winter. The Canadian Rockies has so so much to offer during the winter season even if you're not a skier. You can do ice skating on mirror-like lakes, ice climbing, dog sledding, wildlife viewing, with a bit of luck northern lights, and much more. The landscape is particularly beautiful during winter (which I consider as a great time to visit) and you should plan ahead to get the most of your winter vacation. 
Here below you find things and tips that are good to know when planning to visit the Canadian Rockies during winter.  If you are looking for even more detailed informations on traveling in the Canadian Rockies or decided to go in summer, read my Complete Guide to Traveling in the Canadian Rockies.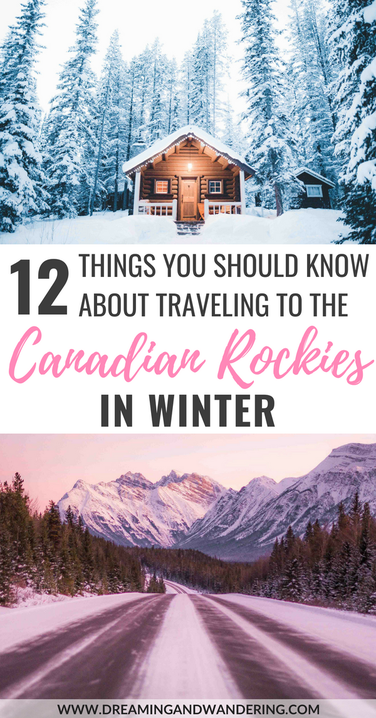 ---
1. It is cold but the most magical
Is it cold in the Canadian Rockies in winter?
Hmmmm, let me think...
Yes yes yes!
Some days can get really freezing cold and days of -30C (-22F) or even less are nothing unusual each winter.
January is the coldest month with average temperatures -15C (5 F), followed by December -14C (7 F) , in February -11C (12 F), in November -8C (17.5 F) and in March you can expect slightly above -8C (18 F) in average.
These temperatures are for the Bow Valley and higher you go, colder it gets. For every 200m increase the temperature drops by 1C (44 F). Plus when it is windy, it feels even colder.
But the temperatures below zero should not keep you away from visiting the Canadian Rockies in winter. Not only because the humidity is low (means that with the right clothes cold temperatures are more bearable than in other countries, like my own - Czech Republic), but mainly because -
WINTER IS WHEN THE MAGIC HAPPENS IN THE CANADIAN ROCKIES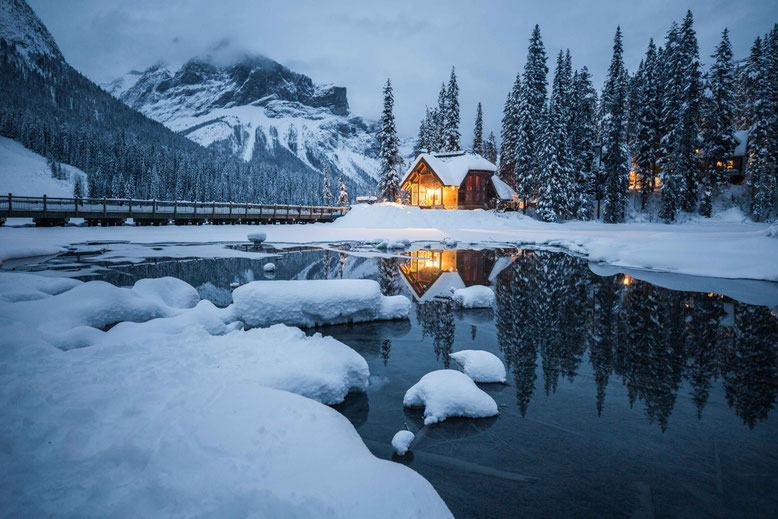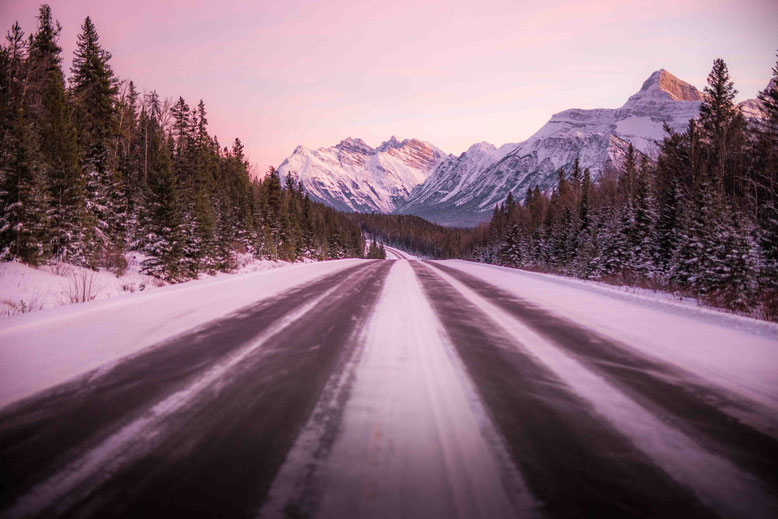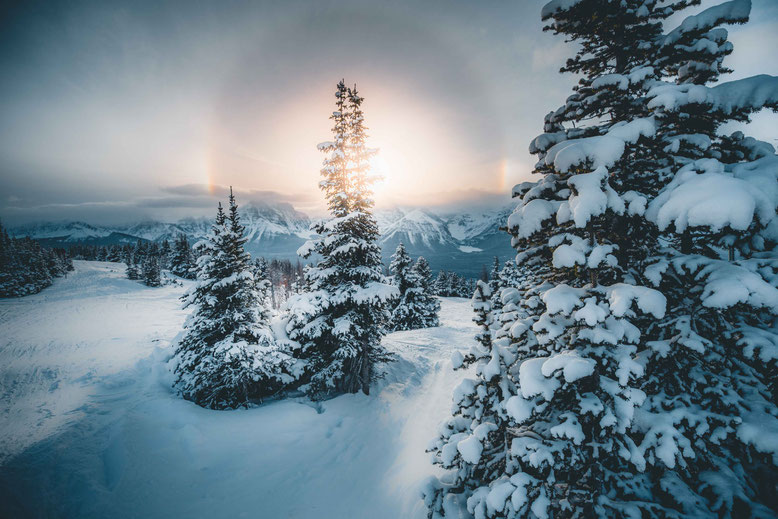 2. It is cheaper in Winter
Unfortunately, prices in the Canadian Rockies are skyrocketing. Every year it is harder and harder for budget travellers to explore these stunning mountains. Price of the hotel room for two in summer averages around 300 CAD per night and hostel prices are around 70 CAD per bed in the dorm room. Yet most of the places are hopelessly booked out long time before the summer starts. The same is for campgrounds.
But in winter, it's a different story. Especially in the slow month of January you can still (as of 2018) come to Banff and still have a chance to book a place on the very same day. And for much friendlier price.
Flight tickets to Canada from other continents get significantly cheaper in winter as well.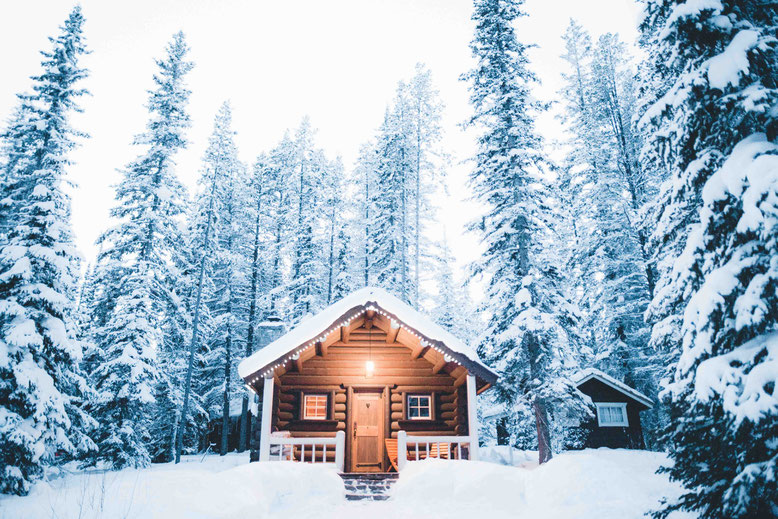 3. Less crowds
Lots of people avoid traveling to the Canadian Rockies in summer season, especially the Banff National Park area. And I agree, popular beautiful spots along the road from Banff to Jasper can get overcrowded and often there is nowhere to park. You should give up on taking great photographs during the day. You will have to wake up for sunrise to take outstanding photos and avoid the biggest crowds. But if you go a little bit further from the highway and take an effort to research some less known yet stunning spots, you might have them for yourselves or share them with just handful of other nature dwellers.
By the end of September is when the mountains get peaceful again and lots of locals coming back to explore their favourite places. Since then it stays peaceful pretty much all winter till about mid of May/beginning of June.
January is the coldest and slowest month and if you planning to do skiing, I really recommend to come in January. Ski Marmot Basin close to Jasper is one of my favourite ski resorts. We were there in January 2018 and the ski runs were super comfortable as you didn't have to avoid other skiers and snowboarders. 
February and March are slower too compared to the high season in the summer, although December can get very crowded around Christmas time, so you better book your holiday vacation ahead.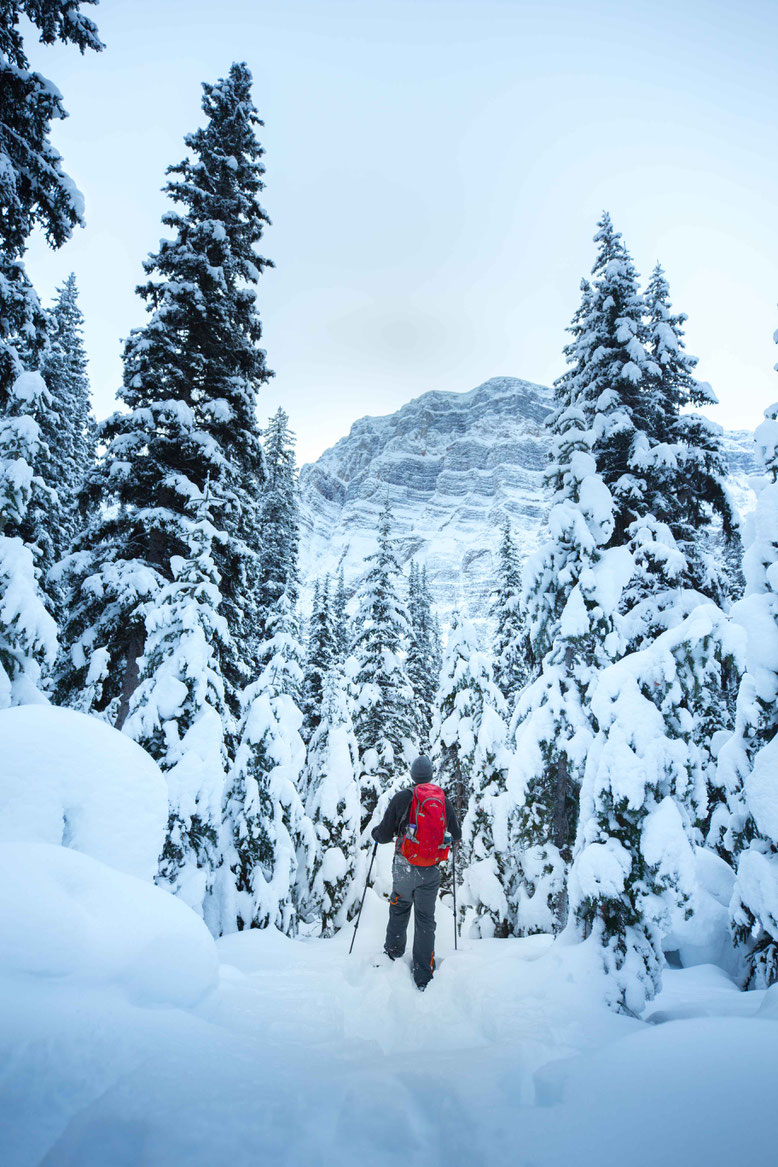 4. The Canadian rockies have the world class ski resorts
If skiing is one of the main reasons why you are planning to visit the Canadian Rockies in winter so so badly, then you probably already know about those top ski resorts in the mountains. 
My personal favourites are Ski Marmot Basin (close to Jasper) and Sunshine Village (between Banff and Lake Louise) in the slow month of January. I wouldn't even bother to go to any of the ski resorts during Christmas as it is a real madness. So I rather wait in peace somewher in a log cabin in the deep woods and when the calendar shows that it's the beginning of January I put my skis on.
Other ski resorts in the area: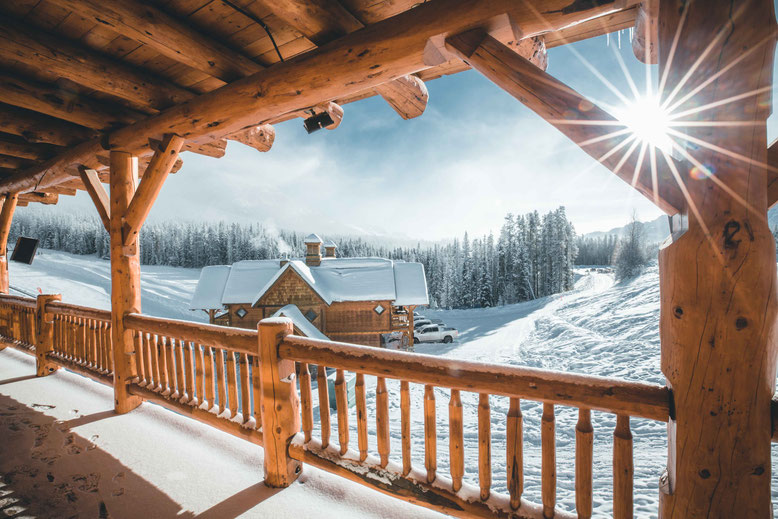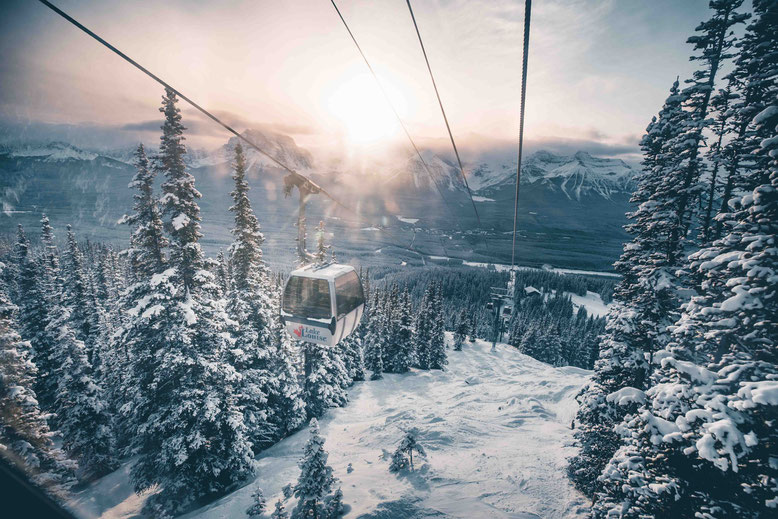 5. There is so much to do in winter
Lots of people think that the Canadian Rockies in winter are just for skiers, but they couldn't be more wrong. There is so much fun to do in these mountains that one week won't be enough to experience everything.
Apart of world class skiing, there are hundreds of kilometres of hiking, snow shoeing and backcountry skiing trails. Safety above all - before you head out to the mountains on your own, check the trail reports on internet or the closest visitor centre).
If you're planning to stay mainly around Banff, see my detailed article dedicated to things to do in Banff in winter.
The Canadian Rockies are one of the best places in the world for ice climbing. Even if you've never tried it before, you can still book an ice climbing tour. If you are an experienced ice climber, just head out and pick one of many frozen waterfalls. The most popular is probably 160m high Weeping Wall south of the Saskatchewan Crossing, also Maligne Canyon and Upper Falls in Johnston Canyon. But you will find many more all around.
Ice skating is one of my favourite activities in winter. Some of the lakes are maintained for ice skating most of the winter. Lake Louise and Pyramid Lake in Jasper are the most popular.
When the conditions are good, mostly at the beginning of winter in December, then lakes can turn into ice rinks straight out of fairytale. The ice is so perfectly smooth, clear and shiny that you will feel like skating on a mirror (some of the lakes where you can try your luck - Spray Lakes Reservoir, Two Jack Lake, Johnson Lake, Lake Minnewanka, Bow Lake, Herbert Lake)
Dog sledding is also very popular in the Canadian Rockies. There are many dog sledding tour operators and you could choose different locations like Lake Louise (the only dog sledding in Banff National Park), Canmore, Golden or Cold Fire Creek.
The best way to enjoy magical winterland in the mountains might be on the horse sleigh. If you are coming with children, they will absolutely love it!
Snowmobiling in Golden, fun snow tubing, thrilling cave tour in Grotto Mountain, ice fishing on Spray Lakes, enchanting Night Icewalk in Maligne Canyon are great options too.
And if you want to see mountains from a bird's perspective and your budget is doesn't limit you, you shouldn't miss a helicopter tour.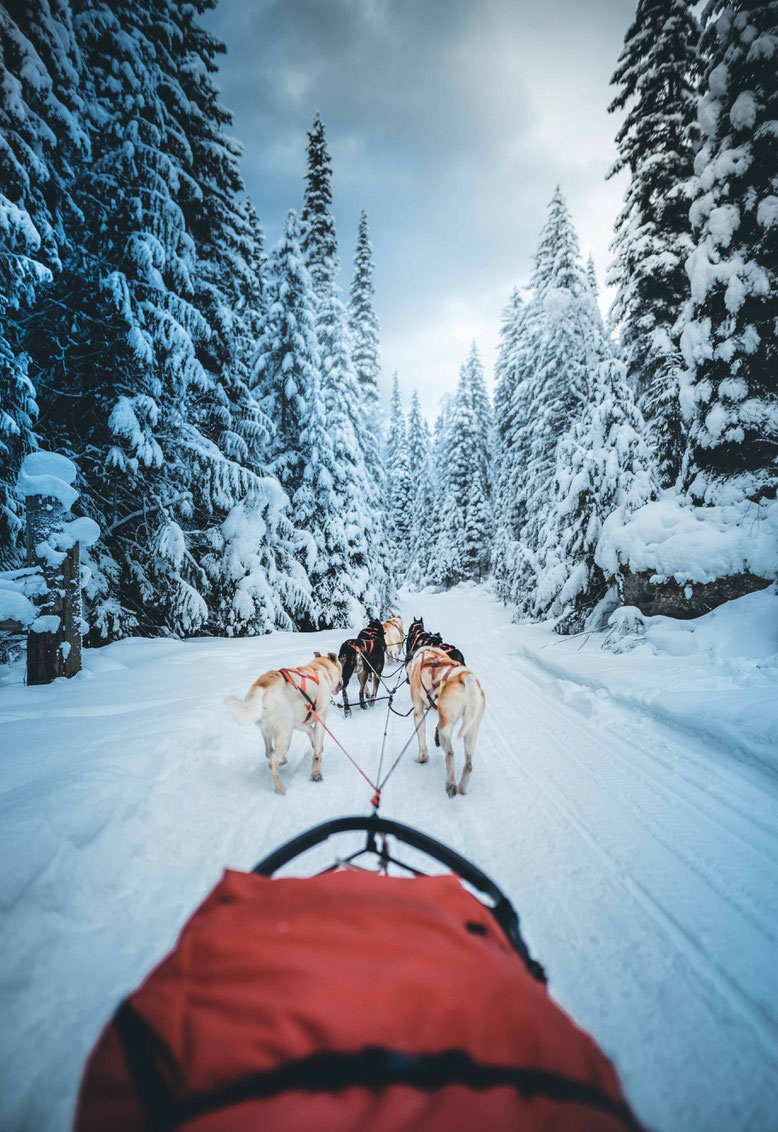 6. you can see the northern lights
Northern lights are not only to be found in the polar places but also in the Canadian Rockies. Of course it is not as often as further up north, but sometimes it can be really spectacular. It is absolutely unreal to see aurora above the snow peaks.
You can sign up for free aurora alerts at AuroraWatch.ca.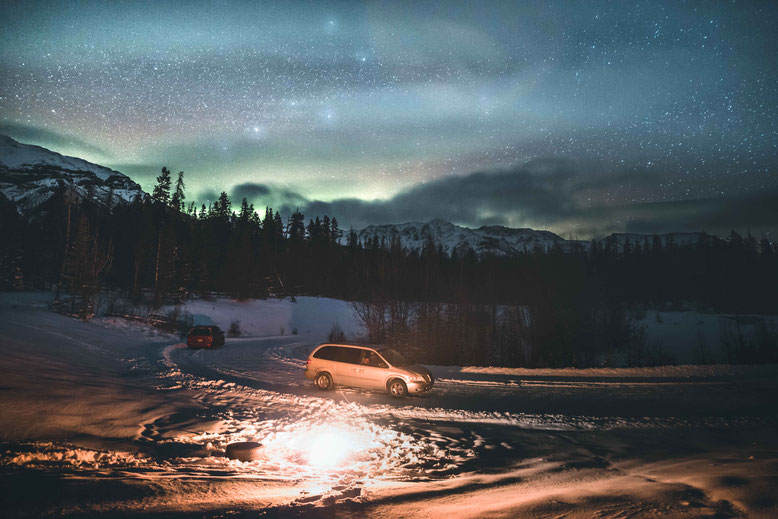 7. you don't need 4WD
Even in the harshest winter I was always driving my 2WD minivan with no issues. I am a very careful driver and only drive so fast as I feel safe. Although if that makes you more comfortable and your budget allows, then go for 4WD.
My favourite website to rent the car for the road trip in the Canadian Rockies is Rentalcars.com. Often they even offer the cheapest car rental rates.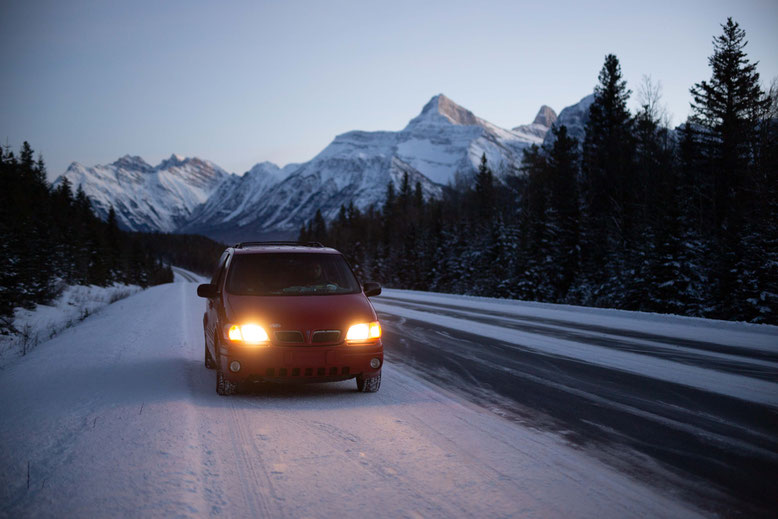 8. plan ahead - some of the roads to iconic locations might be closed
If there are some locations for your Canadian trip on your mind, research ahead if to see if you will be able to get there in winter. You will save yourself disappointment.
Famous Moraine Lake is in winter reachable only by foot, ideally backcountry skiing. Also road to famous Cavell Meadows in Jasper National Park is closed as well.
9. Most of the campgrounds are closed
If you think about renting an RV or a campervan and sleep in the car, note that it is illegal to sleep in the car in National Parks other than in designated campgrounds. Although there are so many campgrounds in the Canadian Rockies, the vast of them (talking about Banff, Yoho, Kootenay and Jasper National Parks) is closed throughout the winter.
Yet there are four (+1) campgrounds that operate all year round:
 For free campsites (outside of National Parks), check one of my favourite websites freecampsites.net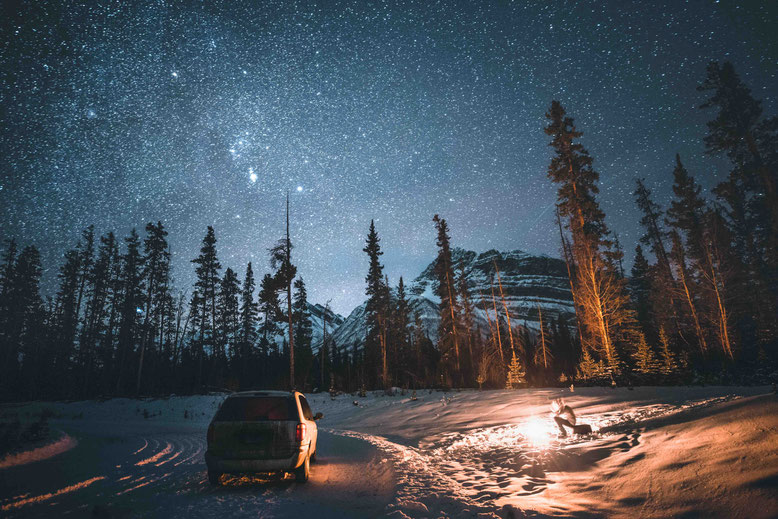 10. most of the hikes are closed between October and May/june
Due to the amount of snow on trails and avalanches, most of the iconic hikes are closed. But you can still enjoy many of them while admiring the dreamy snow landscape.
It's good to always bring spikes on more popular hikes where the path can turn into an icy surface. Without spikes you would be more struggling than enjoying.
You can rent spikes in a few shops in Canmore, Banff, Lake Louise or Jasper, but if you are planning to do more than one or two hikes, I suggest you buy and bring your own. It won't take too much space in your luggage yet will save you dollars. I myself have these cheap ice crampons and super happy with them. 
If you're looking for easy hikes that you can do even with children, I would recommend the loop around Johnson Lake and also Johnston Canyon, Marble Canyon, Emerald Lake Loop or Lake Louise shoreline. Or you can walk from Banff downtown along Bow River to Cave and Basin. Love that place and the short and easy yet beautiful walk.
If you want something a little bit more challenging, then you can save yourself money for a gondola and climb up the Sulphur Mountain to get those breath taking 360° panorama views of Banff and mountains around. The switchbacks make it a comfortable ascent amongst the trees. You can also go up to the Tunnel Mountain. For both don't forget your spikes. Some of my favourites are also Grotto Canyon, Wapta Falls and Maligne Canyon. You will need spikes for those ones too. And as always - warm sturdy waterproof boots.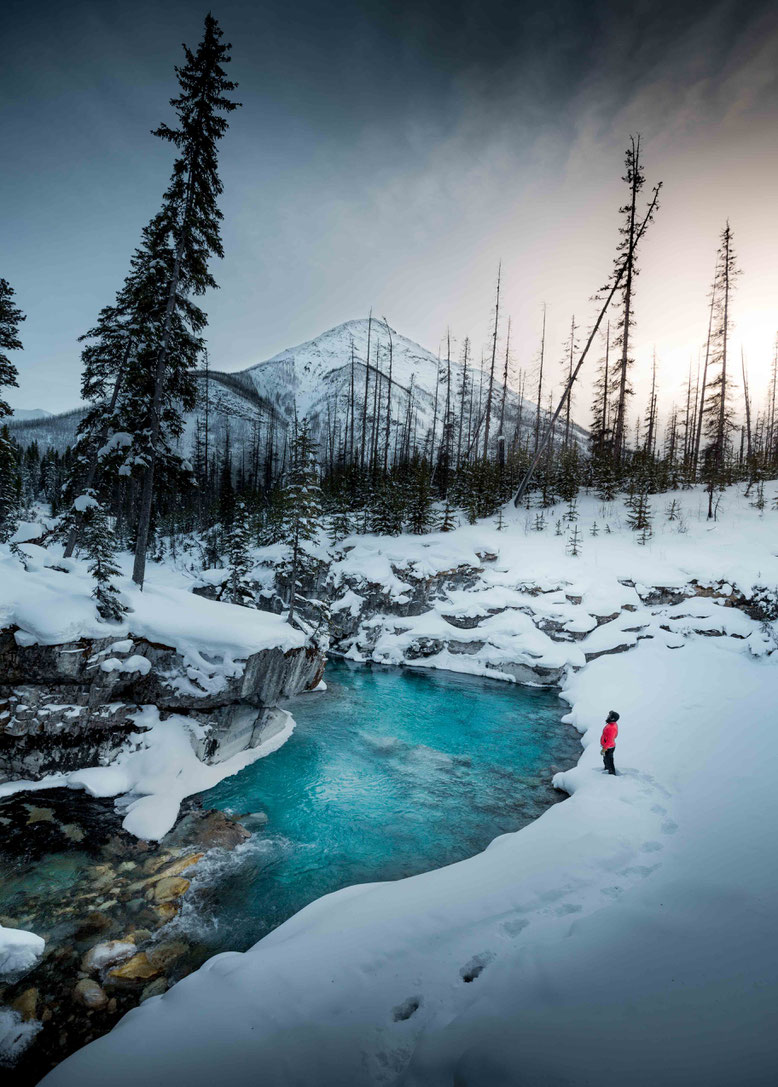 11. Those turquoise blue lakes are frozen
Lots of people come to the Canadian Rockies in the winter to see those unreal blue lakes from the postcards just to be disappointed when the only thing they found are icy surfaces covered with the white blanket.
If you want to see those lakes in their best, you should come back sometimes between June and the beginning of December (when all the lakes usually start to freeze).
Your best bet to see that blue colour even in winter are big fast flow rivers like Athabasca River or Bow River and waterfalls of Johnston Canyon, Marble Canyon, Sunwapta Falls and Athabasca Falls.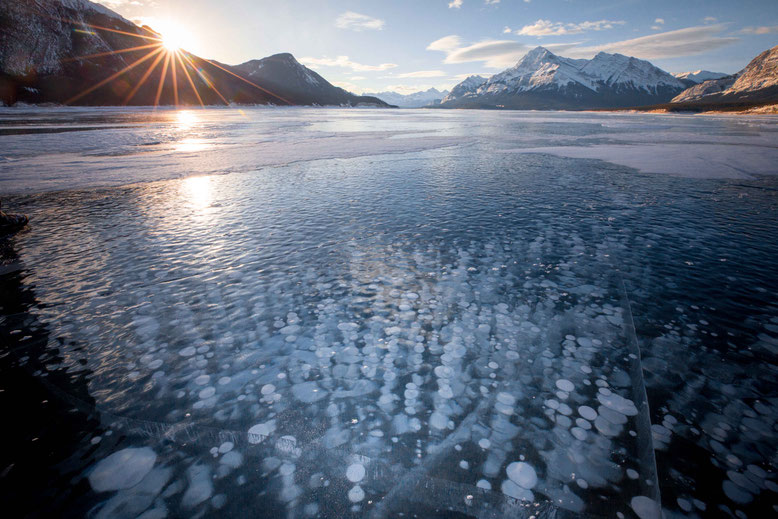 12. Winter is great for wildlife viewing
Most of bears are sleeping in winter, but in general, winter is a great month to enjoy wildlife.
With the winter coming, many animals are moving to lower elevations and near towns. You can see beautiful elks, deers, squirrels, bighorn sheeps, mountain goats and with a little bit of luck even a lynx, cougar or a caribou.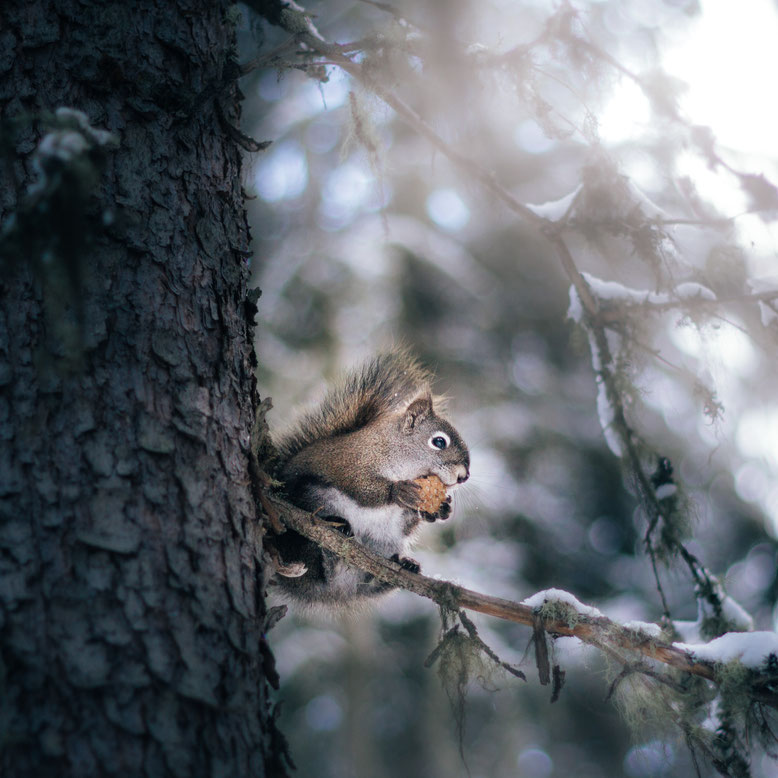 ---
Have you ever been to the Canadian Rockies? Or in summer and dreaming of experiencing winter fairytale?
Leave me a comment bellow or send me a message, I would love to hear that all :)
Thank you for reading and feel free to follow me on Instagram or Facebook to see more of my travels in the Canadian Rockies and other parts of the world.
Martina
**Disclosure: This article contains affiliate links, which means I receive a small commission if you make a booking using the link. It won't cost you a penny but it will help me to maintain this website and write more helpful articles in future.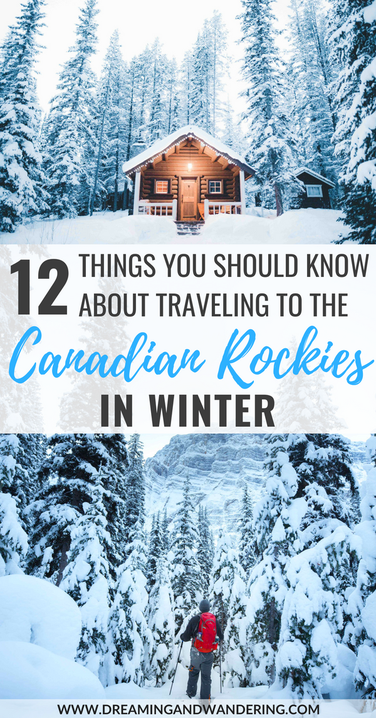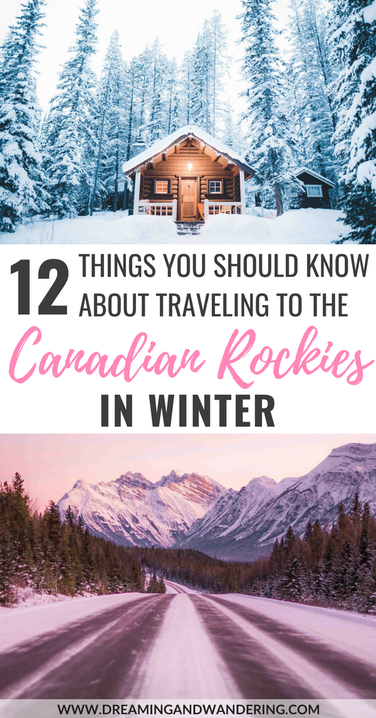 ---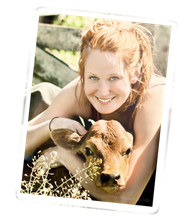 ABOUT THE AUTHOR
Martina is a professional photographer originally from Czech Republic. She quit her well-paid job in the film industry to travel the world and live the life. She visited 70+ countries and when she is not exploring deserted islands in South Pacific or diving with whale sharks in Philippines, she's prospecting for some gold in New Zealand or scrambling peaks in the Canadian wilderness.
---

Leave a reply: